May 14, 2016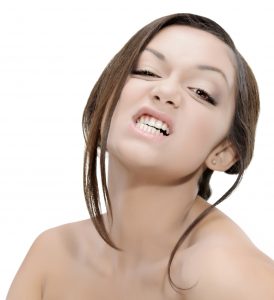 Stress is simply a part of life. To be sure, some people have more than others and everyone copes with life's stresses differently. Very often, stress translates into a physical manifestation. For example, perhaps someone you know bites their nails when they're stressed. Others eat and eat and eat. Teeth grinding and clenching, also called bruxism, is another common stress-induced habit. Willpower can help stop nail biting and overeating, but not teeth grinding because this usually happens at night while you're sleeping. Fortunately, Drs. Marchese at Arbor Dental Care are the Lisle dentist you can come to for relief from bruxism.
Recognizing Bruxism in Lisle
If you occasionally find yourself clenching your teeth, that's okay. It's part of the fight-or-flight response that is inbred in all of us when we are faced with a stressful or dangerous circumstance. Problems can begin, however, when teeth clenching and grinding happen over and over. Then, the motion and pressure of teeth against teeth can begin to take a toll on your smile, as well as the muscles in your face and your temporomandibular joint. Signs and symptoms of bruxism include:
Unusually worn teeth
Pain or weakness of facial muscles
Headaches
Feeling like you have an earache, but no indication of infection
Jaw and neck pain
Disrupted sleep
Bruxism and TMJ
Bruxism and TMJ disorder are related conditions, but they are not the same. Bruxism can be caused by misalignment of your TMJ—the same joint involved in TMJ disorder—and conversely, TMJ can be affected by constant teeth grinding. In addition to the above-mentioned symptoms, people with TMJ may experience difficulty opening and closing their mouths; feeling as if your jaw is locked; clicking or popping sounds when the jaw is moved; and facial swelling.
Treating Teeth Grinding in Lisle
At Arbor Dental Care, our dentists will carefully examine your teeth, jaw and muscle movement to determine if you are grinding your teeth. If so, then we will prescribe a custom fitted oral appliance called a nightguard. Worn nightly while you sleep, this comfortable plastic appliance prevents your upper and lower teeth from meeting. We may also recommend facial massage, hot or cold compresses, a soft food diet or more sleep to combat bruxism and reduce stress.
For Teeth Grinding, Lisle Calls Arbor Dental Care
If you've notice any of the symptoms of teeth grinding in yourself or your partner, then contact Arbor Dental Care today for relief with a custom nightguard.

Comments Off

on Solving Bruxism with your Lisle Dentist
No Comments
No comments yet.
RSS feed for comments on this post.
Sorry, the comment form is closed at this time.