Porcelain Veneers – Lisle, IL
Enhance Your Smile with Porcelain Veneers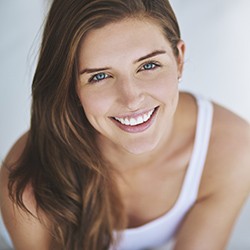 Are you insecure about a less than perfect smile? Porcelain veneers are a popular cosmetic dentistry solution for many patients at Arbor Dental Care who want to significantly improve the appearance of their smiles with a comfortable, minimally invasive treatment. Veneers are thin sheaths of dental-grade porcelain affixed to the front surfaces of the teeth. This makes them versatile to correct several issues using just one procedure. Your dentist in Lisle can give you the drastic, natural-looking results you deserve.
What Can Porcelain Veneers Fix?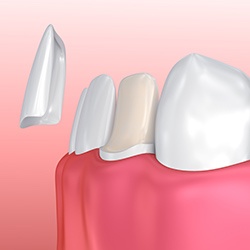 Veneers are a popular solution because they can resolve several cosmetic concerns using only one treatment. We may recommend them for patients who want to conceal or correct numerous smile flaws without needing a lengthy process. In fact, you can have the smile you've always wanted in as few as 2 appointments when needing to correct:
Darkly discolored or stained teeth.
Chipped or cracked teeth.
Shorter than average teeth.
Close gaps between teeth.
Cover minor aesthetic concerns.
What are the Benefits of Porcelain Veneers?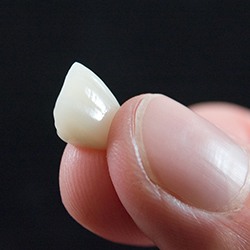 When compared to other elective procedures, veneers offer several advantages, including:
Versatility
Natural-looking results
Minimally invasive
Quick results
Drastic improvement
Long-term results
What is the Process for Porcelain Veneers?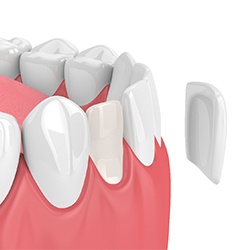 We begin by examining the way your smile looks and discussing the results you want to achieve using pictures of teeth you find flattering. After taking X-rays and photos, we'll use elite technology to design your new smile.
We'll begin by cleaning your teeth and lightly etching their surfaces. We'll take impressions of your mouth, so the dental lab can create your veneers to match your specifications, which can take a couple of weeks. In the meantime, we may attach temporary veneers. After your final restorations are finished, you'll return to our office to have them bonded in place.
How Long Do Porcelain Veneers Last?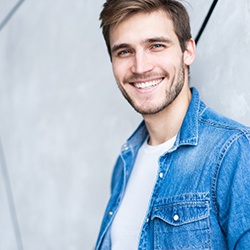 Although veneers are thinner than ever, they can last for a decade or longer with the right aftercare. You can help protect your investment by following a few simple tips:
Use nonabrasive dental products to brush your teeth at least twice a day.
Use a high-quality dental floss to clean between your teeth daily.
Wear an athletic mouthguard if you play sports.
Don't use your teeth as tools or chew on inedible objects.
Don't bite overly hard foods.
How Much Do Porcelain Veneers Cost?
There isn't a set fee for porcelain veneers because the cost is determined by your specific treatment plan, like the number of teeth you're treating. We'll provide you with an estimate and discuss the fees associated with your procedure. A member of our team will explain your payment options, like third-party financing with CareCredit. We will help you find the solutions you need to revamp your smile without breaking the bank.
Veneers FAQs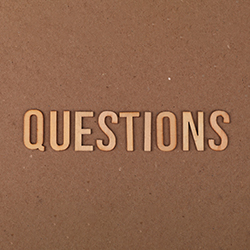 A picture-perfect smile is possible with veneers in Lisle, but they are a big commitment. Your cosmetic dentist at Arbor Dental Care will explain everything and address any concerns during your veneer consultation. While you wait, here are the answers to the most frequently asked questions to determine if they are right for you.
Are Veneers Permanent?
Veneers aren't permanent because they must be replaced, eventually. However, they aren't irreversible either. Your cosmetic dentist must etch the surfaces of your teeth to ensure a strong bond with the veneers. While this doesn't harm the health of your teeth, they can be vulnerable to damage if they aren't always covered by restorations, whether veneers or crowns. Thankfully, you won't have to worry about replacements often because veneers are meant to provide long-lasting results.
How Many Veneers Will I Need?
A veneer can be used to enhance the color, size, and shape of a tooth, but the overall goal is to improve the entire smile. Your cosmetic dentist in Lisle will recommend bonding them to the teeth visible when smiling to achieve the best results. There's no way to know how many you'll need without first examining your mouth. Some patients need as few as 4 to 6, while others may require 8 or more to reach their goals.
What Do Veneers Feel Like?
It may take a few days to adjust to veneers, but in no time at all, you may forget they are there. They are made of porcelain for a smooth, sleek finish. Porcelain also allows veneers to be thinner than ever before, so they won't feel heavy or bulky. Removing a small amount of enamel allows them to fit your teeth like gloves. There won't be any ridges or ledges. Although your veneers will be thin, they are also durable to feel like your real teeth.
How Long Do Veneers Last?
The average lifespan of a veneer is about 10 years, but it's common for them to last for much longer with the right aftercare. You can get the most from your investment by committing to your oral hygiene. Use a soft-bristled toothbrush and nonabrasive toothpaste to brush your teeth twice daily and floss every day. Visit your dentist every 6 months for a cleaning and checkup. Your cosmetic dentist will recommend breaking any bad habits that can damage veneers, like smoking, chewing on your fingernails, or using your teeth to loosen plastic bottle lids. Don't forget to wear an athletic mouthguard if you play sports to protect your pearly whites.
Can I Use My Dental Insurance to Pay for Veneers?
Dental insurance rarely covers elective services unless they are medically necessary. Your benefits can be used to offset the cost of your consultation or any preparatory procedures. A member of our team will work on your behalf with your dental insurance to maximize any applicable coverage. We offer many financial solutions for any out-of-pocket expenses, like a monthly payment plan through CareCredit. We'll help you keep a stunning smile within your budget.
Schedule an Appointment Today
If you're ready to love the smile you see in the mirror, contact our office today to schedule your consultation. We will resolve your imperfections to give your confidence a boost.