Restore Your Smile with Dental Bridges in Lisle, IL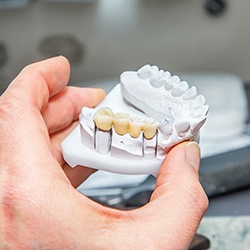 Fixed bridges have been used for decades to replace missing teeth. These tooth replacement prosthetics literally bridge gaps between healthy teeth. They are crafted by attaching a replacement tooth to two dental crowns, one on each side. The crowns are then attached to surrounding healthy teeth. This anchors the replacement (bridge) tooth into place restoring the smile. In some cases, we can replace up to three consecutive teeth with a fixed bridge restoration. Like any other dental treatment from Arbor Dental Care, bridges are not the right solution for every smile. If we determine your smile could be effectively repaired with a fixed bridge, the treatment process will take two appointments. During the first visit, we'll numb the area around the missing tooth. Then, we prepare the two surrounding teeth to receive a dental crown and capture impressions of the prepared bite. Finally, we place a temporary bridge to protect your prepared teeth.
Between your two appointments, our trusted dental lab will craft a custom bridge to replace your missing tooth. Once we receive this fixed bridge from our lab, you'll return to the office where we'll exchange your temporary for a custom crafted dental bridge. For those patients interested in more advanced stability or who do not have healthy teeth to support the bridge, we may recommend a dental implant supported fixed bridge to restore the smile.