Restorative Dentistry in Lisle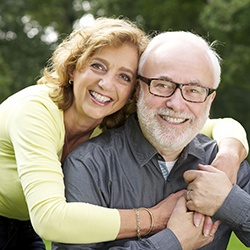 Cracked, broken, or severely decayed teeth can steal your confidence and your smile. When restorative treatment becomes necessary, it's important to our dentists that you understand all the options.
Both Dr. Frank and Dr. Nellie Marchese are known for producing stunning results when addressing complex oral rehabilitation cases through restorative dental services. Restorative dentistry includes a range of services. Teeth can become damaged for several reasons, but we want you to know that we are completely non-judgmental when patients come to us in need of smile rehabilitation. Our goal is simply to use the restorative dentistry at our disposal to reverse the damage and rebuild both your health and self-confidence. We'll use the latest in materials, such as composite resin and porcelain, to make sure that the look of your restorative dental care is as satisfying as the function, fit, and feel.
Restoring the natural look and feel of your teeth is our greatest concern. We select materials that will emulate the beauty and integrity of natural teeth, giving you a smile you'll be proud to show off.
Fixed Dental Bridges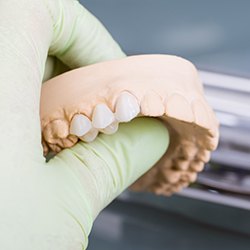 If you are missing one or more teeth, fixed dental bridges offer a permanent solution. The bridge consists of two dental crowns and false teeth. The crowns, which are located at both ends of the bridge, are adhesively bonded over healthy teeth on either side of the gap in your smile. The crowns in turn hold the false teeth in place to substitute for your missing ones.
Learn More About Fixed Bridges
Dentures & Partial Dentures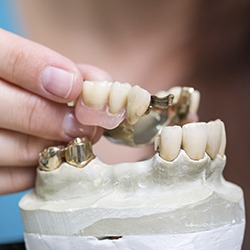 These prosthetic devices offer the same natural look of a fixed bridge, but they are removable. A partial denture can be used to replace one or more missing teeth. Even if these teeth are not consecutive, a partial can be designed to fit securely between remaining teeth. A full denture is designed to replace an entire arch of teeth. False teeth are mounted on a gum colored base.
For a tooth replacement that most closely imitates the structure and performance of a natural tooth, there is nothing like a dental implant. This tooth replacement substitutes for both the root and crown of a missing tooth. The implant is surgically embedded in your jawbone and the attached restoration provides the look and feel of a real tooth.
Porcelain Dental Crowns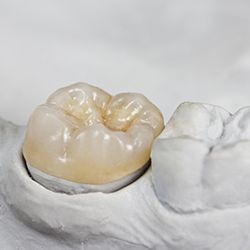 Porcelain dental crowns offer both restorative and cosmetic repair for patients who want to improve the form and function of their smiles. These all porcelain crowns are shaded to flawlessly blend into a patient's natural smile line. We can use porcelain crowns to repair damaged teeth, protect root canal treated teeth, or improve the cosmetic appearance of the smile. Natural looking porcelain dental crowns can also be affixed to implant posts in order replace a missing tooth.
Learn More About Dental Crowns
Onlays & Inlays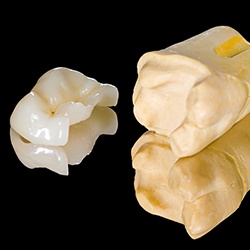 Between a small filling restoration and a full dental crown, there can be a great deal of healthy tooth structure. When patients have decay or damage too advanced to be repaired with a filling but not quite severe enough for a crown, we can offer a happy medium by using onlays or inlays. These two durable, custom restorations allow us to preserve a greater amount of tooth structure while still fully repairing the damaged tooth. Inlays repair damage between the cusps, raised parts on the surfaces of teeth, and onlays repair damage to at least one cusp.
Tooth-Colored Fillings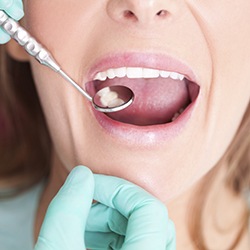 As the name suggests, these fillings blend in seamlessly with the natural color of your tooth. Made of composite resin, a tooth-colored filling is just as strong as amalgam and offers the advantage of bonding to the remaining tooth structure to prevent cracking, leakage, or additional decay. The process is simple and can be completed in a single appointment. We apply the putty-like resin to the surface of the tooth. Then, we shape the filling into position to replace the lost tooth enamel. A curing light is used to harden the filling material into position. Finally, we smooth and polish the treated tooth leaving patients with flawless smiles.
Full-Mouth Reconstruction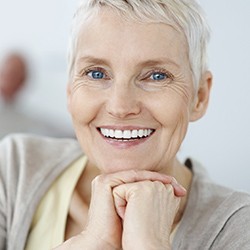 This restorative procedure combines one or more of the above described treatments to rebuild your smile both functionally and aesthetically. The dentist creates this step-by-step plan based on a collection of x-rays, photos, and impressions. Whatever your oral health care need, we can create a plan that achieves your desired results within your budget and schedule. From advanced decay and discoloration to severe facial trauma, we are here to work with you as a partner in restoring your smile to its full form, function, and natural beauty.