Dentures – Lisle, IL
Complete Your Smile with Dentures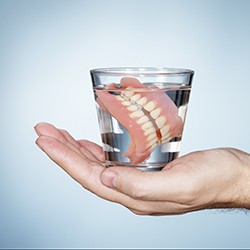 We believe patients who have experienced advanced tooth loss deserve a smile restoration to reinstate their confidence and quality of life. We offer custom-crafted dentures in Lisle to deliver results that look and feel great. We only use durable, high-quality materials to ensure they last for years while providing optimal performance. Whether you need new dentures or an adjustment to an existing denture, we have the solutions for you. You'll achieve the full, flawless smile you desire.
Who is a Good Candidate for Dentures?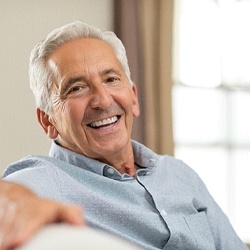 If you've lost several or all your teeth, you might be a candidate for dentures. Your dentist in Lisle will perform a thorough examination of your mouth and learn more about your medical history. Based on the results of your consultation, you may need additional procedures before getting your dentures, like tooth extractions or periodontal therapy. After your smile is healthy, they'll create a personalized strategy to replace your missing teeth.
Types of Dentures
You have more options than ever to rebuild your smile. Depending on your severity of tooth loss, you might be a candidate for:
Partial Dentures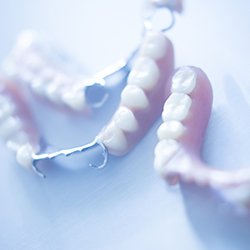 A partial denture fills the gaps between missing teeth. The prosthetics are made with a gum-colored base material that's crafted to fit snuggly between your teeth. The base supports the replacement teeth. Metal bars connect to the healthy teeth to hold the partial in place, so you don't have to worry about any slipping or irritation.
Full Dentures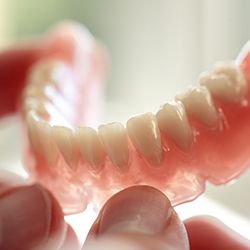 As the name suggests, a full denture is used to replace an entire row of teeth. Like a partial, it has a gum-colored base to support the prosthetic teeth. The base is made of comfortable material to minimize any irritation as it rests on top of your gum tissue. It relies on suction or an adhesive to stay in place to speak, laugh, and eat freely without worrying about your denture falling out.
Implant Dentures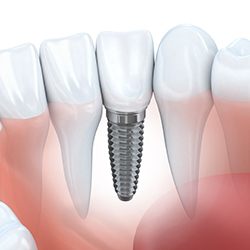 Implant dentures replicate both the roots and crowns of missing teeth. 4 to 10 titanium posts are surgically placed into your jawbone to support the denture. Dental implants provide unmatched support and stability for a nearly perfect recreation of your real smile. An implant denture can last for decades with the proper care for a long-term investment.
The Benefits of Dentures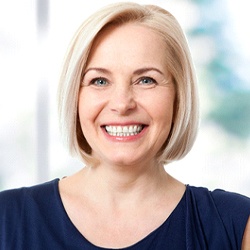 An incomplete smile adds multiple unnecessary challenges to your daily life. Thankfully, you can restore your quality of life with a beautiful smile. Dentures offer several advantages, including:
Improves confidence by replacing missing teeth.
Promotes oral functions to maintain a balanced diet.
High-quality and durable materials.
Looks and feels natural for realistic results.
Cost-effective solutions for each patient.
Easy maintenance and care.
Look younger by supporting facial tissues.
Complete Your Smile Today
You don't need to hide an incomplete smile any longer. We can revamp your self-esteem with dentures. Contact our office today to schedule your consultation for a functional smile. We look forward to creating a customizable, realistic partial or denture to speak, smile, and chew confidently.