Oral Cancer Screenings in Lisle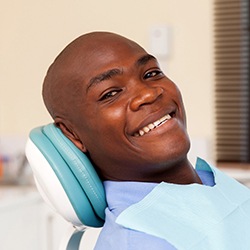 You may not think about it very often, but oral cancer has a sizable presence in our country. According to the Oral Cancer Foundation, some 53,000 Americans will be diagnosed with oral cancer this year -- and the disease kills at least one person every hour. Early detection can help increase chances of successful treatment for oral cancer. At your regular dental checkup, Dr. Frank Marchese or Dr. Jeanelle Marchese can perform an oral cancer screening to see if you've got any irregularities that could indicate the condition. Why should you have an oral cancer screening? And what are the symptoms and risk factors for the disease? Find the answers to these and other questions below.
Why Undergo an Oral Cancer Screening?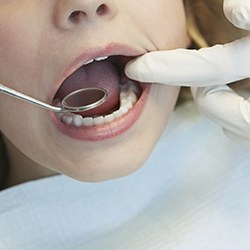 The screening for oral cancer is fast, painless, and performed while you're already at the dentist for regular preventive care, anyway. Given the fast progression of this disease, more screenings mean earlier detection of oral cancer, and potentially more lives saved.
What Are the Symptoms of Oral Cancer?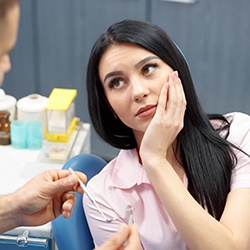 A good oral cancer screening requires a thorough visual and tactile examination of your oral cavity, which includes the area inside your mouth, your throat, and your lips. When your dentist performs the oral cancer screening, he or she will be on the lookout for abnormalities that include:
Sores and bumps that persist beyond a few days
Red or white patches
Lumps in the oral cavity
Numbness in the mouth or lips
Asymmetries
Some of these symptoms of oral cancer may not be evident on the day of your screening, so your dentist will also ask you a list of questions to accompany the exam -- like have you noticed any changes in your oral structures lately? A change in the tone of your voice, how your face looks, or the way your teeth fit together? This information helps us understand just what's going on with your oral health.
Risk Factors for Oral Cancer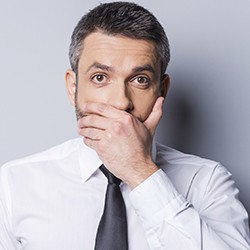 While all adults can benefit from regular oral cancer screenings, patients who are at an increased risk for oral cancer should be especially vigilant in their regular screenings. The risk factors for oral cancer are:
Tobacco use
Heavy alcohol use (especially combined with tobacco)
Age (people older than 50)
Frequent exposure to UV light
Human papilloma virus (HPV)