Invisalign® Clear Braces for Lisle Families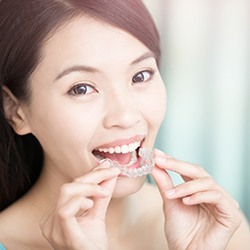 Many patients who visit Arbor Dental Care in Lisle ask about getting a straighter smile. Some of these are adult patients who never had orthodontic treatment, some need orthodontic retreatment because their smile shifted after care, and teens and adults who want to achieve a straighter smile without the hassle that comes with traditional bracket and wire braces. For these patients and anyone interested in a more subtle form of orthodontic care, Invisalign® may be a great option. Our skilled dentists and caring team offer smile realignment using these innovative Invisalign® clear braces system. If you'd like to find out whether or not Invisalign® is an option for you, contact our team to schedule an appointment.
What is Invisalign®?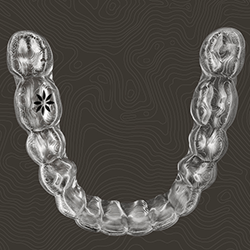 Invisalign® is an alternative orthodontic solution that uses clear, plastic alignment trays rather than brackets and wires to straighten teeth. We utilize the latest 3D imaging technologies to design the alignment trays and plan the entire course of treatment. The process takes about twelve months to complete from start to finish, and allows patients to maintain a more comfortable day to day life during treatment. Invisalign® trays are removable, so patients can simply take them out during meals or while they're brushing and flossing.
How Does Invisalign® Work?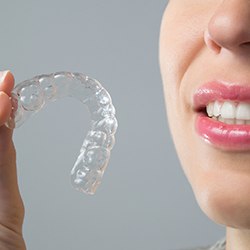 Traditional braces use brackets and wires to move teeth. These braces require regular adjustment by an orthodontist, and are very noticable. Invisalign® uses a series of custom crafted alignment trays to shift teeth into position. We use 3D imagining to design each set of aligners, and these trays represent one step closer to the desired end result of orthodontic care. Worn for about two weeks at a time, the trays place pressure on teeth shifting them towards their ideal position. Then, patients simply exchange their current aligners for the next set in the series.
Invisalign FAQs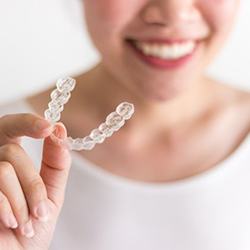 Do you still have questions about what to expect before, during, and after the Invisalign process? We understand that you want to be well-informed about the details of a dental treatment before committing to it. That's why your cosmetic dentist in Lisle has answered some frequently asked questions about Invisalign below. Of course, we can answer any additional questions you may have over the phone or during a consultation!
Does Invisalign Hurt?
Invisalign should not be painful. Compared to traditional braces, the smooth plastic design of the Invisalign aligners makes it a vastly more comfortable orthodontic solution. After all, there is no risk of the metal brackets and wires irritating or injuring the soft tissues in your mouth.
That being said, there is always a small amount of discomfort involved in moving the teeth. When you first begin Invisalign treatment, or when you switch to a new set of trays in the series, your teeth may feel sore. However, most patients would describe it more as "pressure" than "pain," and it should be only temporary. To alleviate any discomfort during the adjustment process, you can use a cold compress or take an over-the-counter pain reliever as needed.
Can You Eat with Invisalign?
One of the main benefits of Invisalign in Lisle is the fact that the aligners are easily removable. You can simply take them out before a meal or snack. In fact, you should definitely remove them before eating or drinking anything besides plain water. Eating with your aligners in will not only stain and crack your aligners, but it also places unnecessary stress on your teeth. Remember to always take your trays out before eating, and keep them stored in a safe place so that you don't accidentally damage or misplace them.
Is Invisalign Cheaper Than Braces?
Because no two smiles are exactly alike, the cost of any type of orthodontic treatment – whether it's braces or Invisalign – can vary greatly from one patient to the next. In most cases, though, the cost of Invisalign is comparable to the cost of braces.
Sometimes Invisalign may end up costing more because it isn't eligible for as much insurance coverage as braces. However, many patients say it's worth the investment due to the benefits that they enjoy throughout treatment. Also, some plans will partially cover Invisalign, so please check with your provider before making your final decision.
What Happens After Invisalign?
Once we've made sure that your teeth are sufficiently straight, we'll provide you with tips on how to maintain your new smile. This will almost always involve wearing a retainer to preserve the results you have spent so much time and money attaining. This set of clear trays is designed to be much more comfortable than the ones you have been wearing. Depending on your specific needs, you'll probably have to wear the retainer full-time for a while before gradually shifting to only wearing it at night.