Full-Mouth Reconstructions in Lisle
If you've ever owned a new car, you may be familiar with one of the main reasons patients seek full-mouth reconstruction. No. It's not facial trauma during auto accidents, but we can help with that as well. It's something much more subtle. You probably notice the very first scratch or door ding on a new car, but what about the 30th? Overtime, daily use takes a toll on a car inside and out. A similar thing happens with people's smiles. Day after day, we rely on our teeth to chew and digest foods, and sometimes, we rely on them a little too heavily to open packages, crack nuts, or chew our finger nails. This daily use can lead to numerous, small chips, cracks, stains, and worn places. One or two small flaws may not make much of an impact on patients' smiles, but dozens of them accumulated over a lifetime of wear can lead to changes in the way a smile looks, feels, and functions. For cases like these, the aforementioned traumatic injuries, and any other patient who needs help transforming their entire smile, we may recommend partnering with the Arbor Dental Care team to create a full-mouth reconstruction plan.
What is Full-Mouth Reconstruction?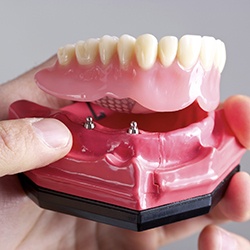 Full-mouth reconstruction is not just one treatment, but a variety of different restorative, cosmetic, or orthodontic dentistry services combined. That can include any of the following:
Fillings
Dental crowns
Fixed bridges
Dental implants
Porcelain veneers
How do I Get Started?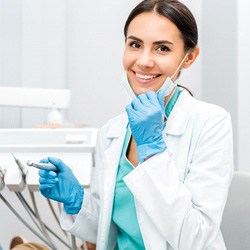 The first step for patients interested in full-mouth reconstruction is to call our team to schedule a consultation. During this appointment, we'll evaluate your current oral health condition. This includes a manual and visual examination as well as diagnostic x-rays and images. Then, we'll discuss what you would like to change and look at smiles that you find appealing. With this information in mind, our team will create a variety of solutions to help you meet your desired goal. The process typically begins by addressing concerns that cause pain or impede natural function. Then, we'll complete the other agreed upon treatments in your personalized full-mouth reconstruction plan.