Dental Implants – Lisle, IL
Restore Your Smile's Health, Function, and Beauty!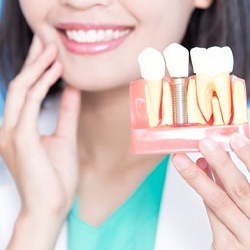 Traditional tooth replacement options only restore the visible portion of your smile. Without the stabilizing effect of the missing tooth's roots, these treatments rely on the surrounding teeth or oral structures for support. At Arbor Dental Care, we offer a better solution: dental implants in Lisle. Whether you're missing one tooth or a full arch of teeth, we can help restore your smile's health, function, and beauty. Call our Lisle dental team today to schedule your consultation and discover if an implant-supported tooth replacement is right for you!
Why Choose Arbor Dental Care For Dental Implants?
Entire Dental Implant Process Completed Under One Roof
Replace Any Number of Missing Teeth
Fair and Honest Fees with no Hidden Surprises
What Are Dental Implants?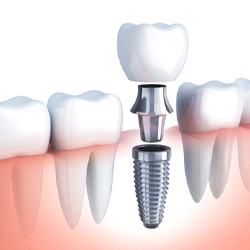 Dental implants aim to rebuild the entire structure of a missing tooth (or teeth). Below the gumline, the missing roots are replaced by a small titanium post that's inserted directly into the jawbone. On top of it is a small connecter piece called an abutment, which fastens the final restoration in place above your gumline. The final restoration is a custom-made crown, bridge, or denture that is crafted from high-quality and natural-looking materials to blend in seamlessly with the rest of your pearly whites. The end result is a smile that looks, feels, and functions just like natural.
The Dental Implant Process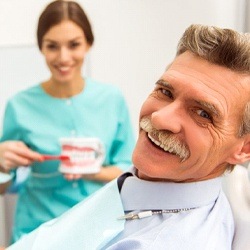 There are two phases in the dental implant process - surgical implant placement and restoration. At Arbor Dental Care, we're proud to offer start-to-finish convenience as our highly trained Lisle dentist can perform both steps right here in our practice. You'll feel comfortable and at-ease as your smile is rebuilt in a familiar office by a dental team you already know and trust. We'll personally ensure your dental implant placement goes as smoothly as possible and that your new restoration fits in perfectly with the rest of your pearly whites.
Benefits of Dental Implants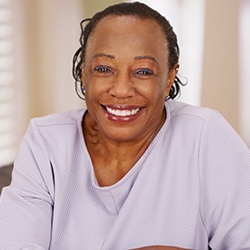 High Success Rate:Dental implants are the most reliable solution to treat tooth loss with over a 95% success rate to last for decades with the right care.
Looks Natural:Your new dental implant will never slip or pop out of place, and you'll find that it's practically indistinguishable from the rest of your smile!
Feels Natural:You'll regain as much as 70% of your biting force, allowing you to confidently and comfortably continue to enjoy eating all your favorite foods.
Preserves Your Jawbone:The implant post serves as a root, stimulating new bone growth to keep your jaw strong.
Improves Oral Health:Stops dental drift and doesn't rely on healthy teeth to preserve your natural smile.
Cost-Effective:Your dental implant should never need to be replaced with the right after care to save money long-term.
Long-lasting results: With the proper care, you can expect your dental implant to last for many decades to come.
Who Dental Implants Can Help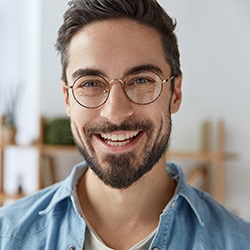 Nearly any healthy adult suffering from tooth loss can enjoy the benefits of dental implants. However, you may need to complete a few preliminary treatments beforehand to ensure that your dental implants are as successful as possible. During your initial consultation, we'll carefully review your medical history, oral health, and jawbone density to ensure you're a good candidate. If needed, we'll work with you to address any issues standing between you and your new smile!
Who Is a Good Candidate for Dental Implants?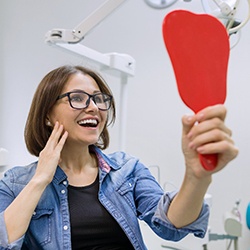 You'll need three things to be considered a "good candidate" for dental implants:
Good overall health: Placing dental implants is a surgical procedure, so you'll need to be healthy enough to undergo minor surgery.
Great oral health: Issues like tooth decay and gum disease can cause dental implants to fail, so these problems will need to be corrected first.
Adequate jawbone density: Your jawbone needs to be strong enough to support your dental implant(s). If it isn't, you may need to complete a bone graft or sinus lift beforehand.
If you're lacking any of these three factors, there's no need to worry! You may still be able to get dental implants. We'll help you figure out what steps you need to take next (such as periodontal therapy, a tooth extraction, bone grafting, etc.) to get you ready for your brand-new smile.
Dental implants can retain a variety of restorations, including crowns, bridges, and dentures. No matter how many teeth you're missing, they can help you regain a full set of pearly whites!
Missing 1 Tooth
Implant-retained dental crowns are an excellent way to replace a single tooth. We'll surgically insert a small titanium post where your missing tooth's roots were. Once it's fused with your jawbone, we'll attached a beautiful, custom-made dental crown to the top of the post that blends in seamlessly with the rest of your smile.
Missing Multiple Teeth
If you're missing several teeth in a row, they can all be replaced at once with an implant-retained bridge. This involves placing two implants on either side of the gap to anchor the new dental structure between them into your smile. This provides superior support without wearing down the adjacent healthy teeth.
Missing All Teeth
While traditional removable dentures can quickly replace a full arch of missing teeth, they often cause irritation and inconvenience later on as they lose their fit. With a few strategically placed implants, an implant denture can replace all your teeth while providing improved function and comfort.
Understanding the Cost of Dental Implants
There are a variety of factors that can influence the cost of your dental implant treatment, such as how many implants are needed, where the implants need to be placed, and what type of restorations will be used. During your consultation, we'll go over the cost of your specific treatment, as well as options like CareCredit that can make it more affordable. Remember, while dental implants may have a higher initial price tag than other options, they're a worthwhile investment in the long-term wellbeing of your smile!
Types of Dental Implants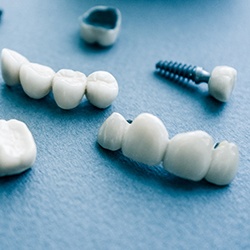 Everyone's treatment plan is unique; therefore, there isn't a set price for dental implants in Lisle. There are various factors that influence the cost, such as the number of teeth you're replacing and if you need any additional procedures. We'll provide you with a custom estimate and explain the fees associated with your treatment plan during your initial consultation.
Stages of Dental Implant Treatment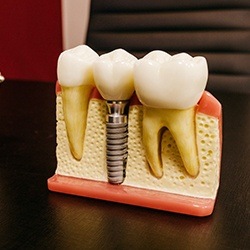 The process of replicating a tooth with a dental implant occurs in several stages, each of which have separate fees. With various steps, it can make it easier to pay for your new smile because you won't need to cover the entire cost at once. Although every treatment plan differs, you can expect to pay for:
Initial Consultation:Besides a visual examination, you'll also need a CT scan.
Additional Procedures: You may need additional treatments, like periodontal therapy or bone grafting.
Placement Surgery: A titanium post is surgically placed into your jawbone to serve as a root.
Abutment: Each dental implant needs a special fixture called an abutment.
Restoration: Your new tooth is made of high-quality material to look and function naturally.
Are Dental Implants Worth the Investment?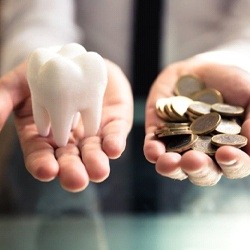 It's true you'll initially pay more for dental implants than more traditional treatments, but they are more cost-effective long-term. Dental implants are proven to last for decades with the right aftercare, like maintaining your oral hygiene and visiting your dentist at least twice a year.
Dental implants also lower your overall oral health expenses because they prevent many common issues associated with tooth loss, like cavities and gum disease. You'll avoid needing a costly procedure down the road to save money in the future.
Does My Dental Insurance Cover Dental Implants?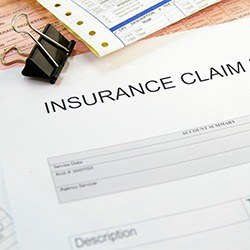 Every policy differs, but many dental insurance plans can be used to help offset the cost of certain steps in your treatment, like the consultation or restorations. After paying your deductible, you can use your annual allowance to lower the amount you need to pay out-of-pocket.
A member of our team will file the necessary claim forms to maximize your benefits. If there's any remaining balance, we'll discuss your payment options, like using third-party financing.
Dental Implant FAQs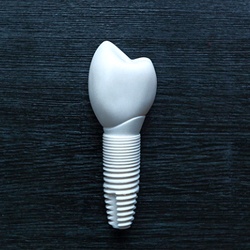 If you're ready to invest in the next best thing to your real teeth, dental implants might be the solution for you. Since they recreate the entire tooth structure, they allow you to enjoy a variety of benefits not possible with any other treatment. Although you'd like to experience their advantages for yourself, it's normal to have a few questions before you're ready to commit to the treatment. Here are the answers to a few of the most common questions we're asked to help you determine if they are the right option for you.
Can I Get Dental Implants If I Have Gum Disease?
Dental implants provide predictable results if they have the right foundation and aftercare. Therefore, you won't be a candidate for the treatment if you have active gum disease, but that doesn't mean you can't become one. Periodontal therapy will target the infection and stop it from causing further damage to your smile.
Will I Need Bone Grafting Before Getting Dental Implants?
Many patients require bone grafting prior to their implant placement surgery, but it isn't always necessary. During your initial consultation, we'll review a CT scan of your oral structures. If we find you've lost bone in your jaw, we'll recommend the grafting procedure. This adds bone to areas that have weakened to ensure your jaw is strong enough to support the posts long-term. Although it adds another step to your treatment plan, it's time well-spent to invest in the success of your new smile.
Does Getting Dental Implants Hurt?
You will require oral surgery to place your implant posts into your jawbone. Don't worry, sedation or anesthesia are used to ensure your comfort. You won't feel any pain during your procedure; however, you can expect there to be some discomfort while you heal. You can manage it with an over-the-counter pain reliever. After you've healed, your dental implants should never hurt. If you have any pain, it can be a sign of implant failure. It's best to contact your dentist right away to find the source of your discomfort to save your smile.
Can Dental Implants Fail?
Dental implants are the most reliable solution to treat tooth loss. In fact, they have over a 95% success rate. While it is rare, dental implants can fail, but the risk is less than 5%. Most often, dental implant failure is caused by a preventable infection called peri-implantitis. You can protect your investment from complications by committing to your oral hygiene at home and visiting your dentist at least twice a year for a cleaning and checkup.