Restore Your Smile with Dental Crowns in Lisle, IL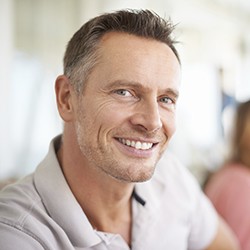 At Arbor Dental Care, we are dedicated to helping patients keep their smiles healthy, but despite all best efforts, most patients experience dental decay or damage at some point in their lives. When this occurs, we always begin by recommending the most conservative treatment. Our goal is to help patients preserve the greatest amount of tooth structure while still completely repairing the tooth. For this reason, we offer a wide range of restorations from conservative tooth-colored fillings to advance tooth replacement options. Each patient's situation will be unique, and our team will partner with you to find the most conservative restoration option. To find out more or get started on your treatment plan, contact our Lisle dental team.
Dental Crowns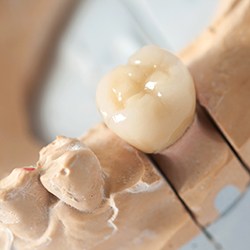 Dental crowns are a versatile, reliable restoration solution for many patients with smile flaws or damage. These restorations are crafted to fit completely over the top of the damaged tooth. We offer crowns crafted from a variety of materials including metal, porcelain fused to metal, and all ceramic crowns. By far the most popular solution would be the natural looking all ceramic crowns. These restorations blend seamlessly into the natural smile line, and are safe and effective even for those patients with severe allergies to metal.
The Restoration Process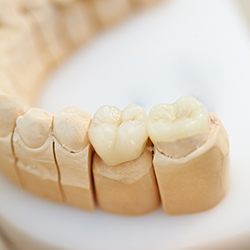 These restorations all require a similar treatment process completed over the course of two appointments. During the initial visit, the tooth is prepared. We capture impressions of the bite that will be used by our lab to create the custom restoration. Then, a temporary is placed to protect the prepared tooth. Once we receive the final crown, inlay, or onlay from our lab, patients return to exchange the temporary for a custom restoration.
Inlays & Onlays vs. Crowns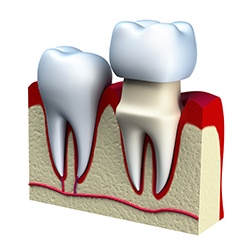 Inlays and onlays offer patients a restoration solution for damage or decay too large for treatment with a filling but not large enough for treatment with a crown. These restorations allow us to provide a more conservative treatment option for many patients. Inlays repair damage to the parts of the tooth between the cusps, the raised portions on the biting surfaces of teeth. Onlays are used to repair damage to one or more cusps of the tooth.