Cosmetic Dentistry — Lisle, IL
Achieve the Smile You've Always Wanted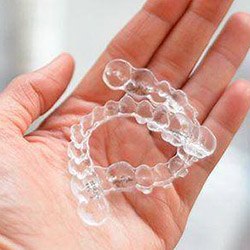 A stunning smile is not only a confidence booster, it can help you achieve your social and professional goals too! People with an attractive smile are considered smarter and friendlier, as well as more interesting and successful at work. Yet only half of Americans are actually satisfied with the look of their teeth.
Do you wonder what it would be like to have a great-looking smile? At Arbor Dental Care, we're changing lives one smile at a time. If you are interested in finding out what we can do for you, consider making an appointment at Arbor Dental Care in Lisle to undergo a cosmetic dentistry consultation. We'll walk you through your various cosmetic dentistry options, including teeth whitening, cosmetic bonding, porcelain veneers and Invisalign®.
Teeth Whitening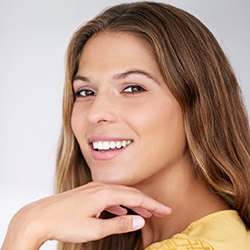 This cosmetic dentistry treatment is fast becoming one of the most cost-effective steps you can take to enhance the appearance of your smile. Even if your teeth have other imperfections, a white smile is great compensation.
Our Lisle dental office offers the gold standard in whitening using several methods. This home method requires a couple of weeks to develop your whitest smile and can also be used for future touch-ups. Specific whitening methods will be selected for your individual needs.
Cosmetic Bonding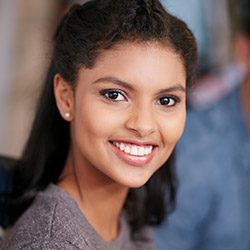 That chip in your tooth may be unnoticeable to others. However, you see it every day, so why not have the chip erased with cosmetic bonding. Using just a small amount of composite resin material, one of our dentists will conceal the chip and remold your tooth to a natural shape.
Learn More About Cosmetic Bonding
Porcelain Veneers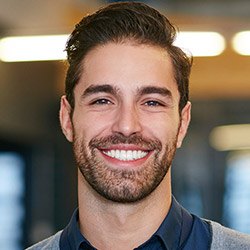 To cover up any number of flaws in your smile, the Drs. Marchese may recommend porcelain veneers. These durable coverings are adhesively bonded to the facial side of teeth that show most when you smile. They are perfect for concealing chips, cracks, breaks, teeth with gaps between them, and even teeth that are slightly misaligned. With only two appointments, you can transform your smile.
Learn More About Porcelain Veneers
Invisalign® Clear Braces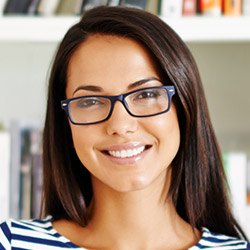 If you never had orthodontic braces as a teenager but still want to enjoy the benefits of a straight smile, then consider Invisalign®. This orthodontic regimen uses clear plastic aligners to move your teeth. Invisalign® treats the same orthodontic problems as traditional braces, but does so in a way that is far more inconspicuous. The Invisalign® system utilizes a series of alignment trays each representing one step closer to your desired end result. Patients wear each set of trays for about two weeks. Then, they exchange the current tray for the next set in the series. Invisalign® trays are removable, so patients will not need to make significant changes to their diets or oral hygiene routines. Simply remove the aligners during meals and while cleaning your teeth. Then, replace them after.
Cosmetic Dentistry FAQs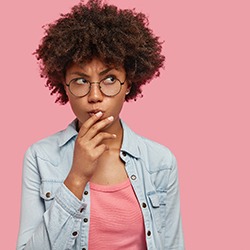 Are you ready to achieve the smile you've always wanted? It's likely that you have a lot of questions that need answers before you're ready to choose a treatment. While we'll be more than happy to walk you through all your options during your initial consultation, we invite you to look over the following cosmetic dentistry FAQs in the meantime! As always, if you'd like to learn more or schedule your next appointment, we're only a phone call away!
I Want to Improve My Smile — Where Do I Start?
Your first step towards a beautiful smile is to schedule a consultation with your Lisle cosmetic dentist Drs. Frank or Jeanelle Marchese. They'll take the time to get to know you and discuss your goals for your smile. Then, they'll inspect your mouth and oral health before going over all your treatment options and their recommendations. Together, we'll create a custom plan to achieve your dream smile.
Can Anyone Get Cosmetic Dentistry?
Thanks to modern dental technology, techniques, and materials, it's never been easier to erase dental flaws. However, not everyone is a good candidate for the treatment they want right away. Oral health issues such as tooth decay, gum disease, and teeth grinding can make some services uncomfortable or less successful, so they'll need to be addressed first. Once your smile is healthy, we can move on to improving its appearance.
How Long Will It Take to Improve My Smile?
Just like how no two smiles are exactly the same, treatment timelines will vary from patient to patient. How long it takes to get the smile you want will depend on which cosmetic services you choose. For example, treatments like teeth whitening and direct bonding can dramatically improve your smile in just one quick and easy appointment. On the other hand, more custom-made solutions like porcelain veneers may take several weeks to design, create, and place. We'll be happy to provide you with a personalized treatment timeline estimate during your initial consultation.
Do I Need Orthodontic Braces If I Have Crooked Teeth?
In the past, the only way to fix crooked teeth was with metal braces. While this is still the best treatment for severe orthodontic issues, it's not the only option for slightly misaligned teeth. If you don't have any bite issues and your teeth are mildly crooked or gapped, cosmetic services like porcelain veneers and dental bonding may offer a faster and more cost-effective solution. However, if you do need orthodontic treatment, we're proud to offer Invisalign clear aligners. With this treatment, you can easily, conveniently, and invisibly straighten your smile in no time. We'll carefully inspect your teeth, jaws, and bite during your consultation to determine which method would most effectively help you get the beautiful smile you deserve.
Don't let cosmetic flaws and dental imperfections hold you back in life. Come visit us here at Arbor Dental Care to finally achieve a smile you'll be proud to show off!