August 24, 2016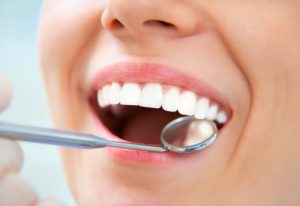 Are your gums red and puffy? Do you have a "long in the tooth" appearance? These symptoms and more indicate gum disease, the leading cause of tooth loss among adult Americans. Your Lisle dentists at Arbor Dental Care diagnose and treat gum disease, using deep cleaning with a sophisticated diode laser.
How Gum Disease Happens
The American Academy of Periodontology says that gum disease first develops as mild gingivitis–some redness, a little bleeding when you brush. Some people don't even notice it at this very early stage. However, Dr. Frank Marchese or Dr. Jeanelle Marchese would observe during a routine oral exam.
Gingivitis is largely preventable, say dental experts, and the key lies in twice daily brushing and once a day flossing according to American Dental Association guidelines. This hygiene routine removes the sticky plaque that build ups on, around and in between teeth and at the gum line.
Twice a year professional teeth cleanings at Arbor Dental Care remove the plaque brushing and flossing miss and also the hard tartar they cannot.
The problem with biofilm build-up is this: oral bacteria thrive in it. These bacteria secrete acids which cause cavities, and they also infect gums. Yes, gum disease is really an infection that inflames and deteriorates gum tissue, pulling it away from tooth surfaces.
Gum disease in its most advanced form is called periodontitis. And, to stop it, patients need a deep tooth and gum cleaning. Also called tooth scaling and root planing, deep cleaning removes tartar and infected gum tissue, smoothes root surfaces and allows gum tissue to re-attach.
Deep Cleaning
Dentists and dental hygienists gauge the severity of gum disease by measuring gum pocket depth. Using a small, handheld periodontal probe, your dentist sees how deep the space is between gums and tooth surfaces. Pocket depths greater than 3mm are diagnostic for periodontitis and require treatment.
With hand held tools, the hygienist gently scrapes away plaque and tartar build-up. She planes the roots, too, eliminating rough surfaces. She may instill antibiotics to quell infection and inflammation.
For more advanced cases, the dentist uses a sophisticated diode laser. Handheld and painless, this concentrated light source removes, or debrides, infected tissue, disinfecting it, too– all without painful cutting or sutures. Plus, the diode laser is very precise, allowing the doctor to target just the infected areas. Healing from laser periodontal therapy is quicker than traditional methods.
Gum Disease Has Systemic Effects
An old adage says, "A word to the wise is sufficient." Regarding gum disease, remember that what happens in your mouth does not stay there. Gum disease with its bacteria and inflammation is linked to serious systemic health problems such as:
Diabetes
Hypertension
Stroke
Dementia
Liver and kidney problems
Pregnancy complications
Rheumatoid arthritis
So, semi-annual oral exams and hygienic cleanings at Arbor Dental Care help prevent tooth decay and its less publicized partner, gum disease.
Come and See Us
Contact Arbor Dental Care today for your routine cleaning and check-up appointment. Some basic preventive care helps teeth stay strong and bright and gums healthy and pink.

Comments Off

on Lisle Dentist Tells When a Deep Cleaning is Needed
No Comments
No comments yet.
RSS feed for comments on this post.
Sorry, the comment form is closed at this time.