November 24, 2016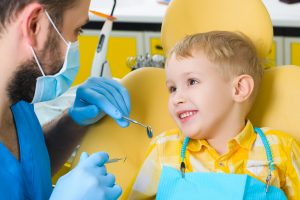 Baby teeth are important teeth, critical to your child's oral health, speech, nutrition and facial appearance. These primary teeth also usher in adult teeth, ensuring their proper alignment in the mouth. Drs. Frank and Jeanelle Marchese, kids' dentists in Lisle, begin seeing young patients when the first baby tooth erupts and follow-up with careful preventive care from toddlerhood on. Learn what excellent children's dentistry involves at Arbor Dental Care.
The First Visit
Dr. Jeanelle Marchese takes a keen interest in very young patients. She recommends parents bring little ones to the office when the first baby tooth comes in, typically at six to eight months of age, or by the first birthday. This visit is a quick, friendly, get-acquainted appointment and helps the child become accustomed to the atmosphere in the office.
From Toddlerhood on
Toddlers on up see Dr. Marchese every six months just as their older siblings and parents do. Dr. Marchese checks for tooth decay, gum disease, bite, and tooth alignment, along with tooth and jaw development. The friendly hygienist counts, cleans and polishes teeth and takes digital X-rays as needed. She also teaches kids and parents the ABCs of good oral care at home:
Brushing twice a day with a soft brush
Eating a low sugar diet, high in protein, calcium, fruits and vegetables
Drinking eight glasses of water a day
Wearing mouthguards during sports
Other Preventive Measures
The Lisle children's dentist often recommends plastic sealants to coat deeply grooved molars and painted on fluoride varnishes to strengthen tooth enamel. Both in-office services are quick and comfortable; they protect young teeth against tooth decay. Applied early on, sealants typically last ten years and are great insurance for the health of young teeth.
Through the Years
Just as with adult teeth and gums, children's needs change over the years. Arbor Dental Care provides individualized treatment plans to keep kids' oral health on track and to provide restoration of decay or gum disease as necessary. Additionally, the dentists track the development of bite and alignment and will refer a child for orthodontic care if necessary.
Plus, for the older teen, Arbor Dental Care offers Invisalign clear aligners, a discreet, quick and comfortable way to achieve a straight smile. Invisalign moves crooked teeth into more attractive and healthier positions. It's a great way for teens and adults to enjoy excellent aesthetics and improved oral health.
Finally, Arbor Dental Care understands that dental emergencies are common with kids. A knocked out or cracked tooth, oral laceration, or lost filling need prompt and kind attention. Always call Arbor Dental Care promptly when an urgent dental situation occurs. The doctors and staff will advise you on immediate care and get you in the office for a same-day appointment as needed.
Invest in Your Child's Oral Health
At Arbor Dental Care, the doctors and professional staff look forward to partnering with parents in care for children's oral health needs. If your little one is getting that first tooth, why not contact Arbor Dental Care to arrange a visit with Dr. Marchese? It will be fun and informative!

Comments Off

on When Should You Go to the Kids' Dentist in Lisle?
No Comments
No comments yet.
RSS feed for comments on this post.
Sorry, the comment form is closed at this time.