April 20, 2017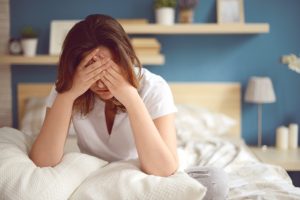 It's never great to start your day with a headache or jaw pain, however that's what you face on a regular basis when you clench your teeth at night. Did you know that you may be suffering from bruxism? Also known as clenching and grinding your teeth, bruxism can have very debilitating consequences. It's also tricky to pinpoint because you may not even realize you're doing because it happens at night. That's where your team at Arbor Dental Care can help! We'll discuss how to know you're clenching and grinding your teeth, and how you can stop.
What Causes Bruxism?
Different factors can be at work when you clench your teeth. Bruxism can be caused by:
Stress or anxiety
Crooked or overlapped teeth
Missing teeth
A misaligned bite
Sometimes it's a combination of these factors, and the causes of bruxism are different for every patient.
The Effects of Clenching and Grinding Your Teeth
It's normal for people to grind their teeth from time to time, especially during stressful situations. Damage can be caused however, when it's occurring on a nightly basis. Clenching and grinding your teeth at night can result in conditions such as:
Painful headaches or migraines – especially in the morning
Tooth or jaw pain
Excessive wear on your teeth
Fractures or other damage to your teeth
Issues with TMD, or temporomandibular joint disorder
Diagnosing and Treating Bruxism
Consistent visits to your dentist every six months is the best way to diagnose bruxism, especially if you're not experiencing any pain or headaches. Drs. Frank and Jeanelle Marchese will see the telltale signs of clenching and grinding when they examine your teeth, especially when we're monitoring them on a consistent basis every six months.
If we notice that bruxism is an issue for you, we'll recommend that you wear an orthotic appliance, or mouth guard during the night while you sleep. Since there are many different types of mouth guards, our doctors will customize an appliance that is designed for your specific needs. It's easily removable for cleaning and comfortable to wear throughout the night.
For many patients, wearing a night guard alleviates their symptoms. Other patients may need to combine an oral appliance with other types of therapy such as stress management therapy or massage treatments to completely alleviate their bruxism. At Arbor Dental Care, we're happy to partner with you to determine the best treatment for your needs.
Contact Arbor Dental Care
Would you like to learn more about bruxism? Contact our office today to schedule your next appointment.

Comments Off

on The Causes of Teeth Clenching and How to Stop
No Comments
No comments yet.
RSS feed for comments on this post.
Sorry, the comment form is closed at this time.