June 20, 2017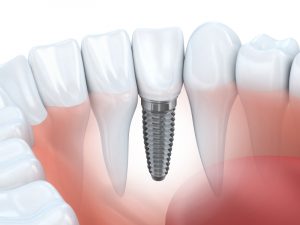 If you are missing one or more teeth, you may feel overwhelmed thinking about your options in replacement. The one thing to know for sure, though, is that those gaps in your smile need to be filled. Tooth loss causes issues chewing, speaking, and can take a toll on your self-confidence. When it comes to your options in tooth replacement, nothing does the job better than dental implants in Lisle.
In this week's blog post, let's take a look at the non-implant supported options in tooth replacement and how each one compares to dental implants. More from Dr. Marchese below!
Single Tooth Replacement Without Implants
If you've just lost one tooth, filling that gap will prevent the surrounding teeth from drifting out of place and keep the remaining natural teeth healthy. The most popular option for replacing a single missing tooth without dental implants is with a fixed bridge.
Traditional Fixed Bridge
This common tooth replacement is supported by the two teeth that surround the gap. These healthy natural teeth act as anchors for the prosthetic that fills the space. Unfortunately, without a dental implant, these healthy teeth must be ground down to make room for two crowns to be applied on top. A tooth supported fixed bridge is stable and can last for many years, but the bone underneath the prosthetic tooth is not stimulated as with dental implants. That means it can gradually lose its volume.
Multiple Tooth Replacement Without Implants
Bone loss occurs more rapidly when many teeth are missing, and dental implants keep the jaw healthy to prevent total tooth loss. For multiple missing teeth, a removable partial denture may be chosen. A complete denture replaces a full row of teeth. Dentures can be secured by dental implants or not.
Removable Partial Denture
A partial denture fits in with the existing natural teeth like a missing puzzle piece. When it is not supported by dental implants, a removable partial denture may slip around or fall out at inopportune moments. It is not as natural looking as dental implants, either. Bone loss that occurs with missing teeth also causes the denture to lose its fit, meaning patients must visit the dentist periodically for adjustments — something that just isn't necessary with an implant-retained tooth replacement. Sore spots and blisters may develop as a result of the ill-fitting denture.
Removable Complete Denture
If you are missing all of your teeth in the upper or lower jaw, a removable complete denture can give you the appearance of having a full smile once again. Unfortunately, if it's not supported by dental implants, the denture rests right on the gums and may be uncomfortable, slip around, or fall out when you least expect it. Dental implants can replace many of the teeth's roots to secure a full denture, promoting oral health and helping you enjoy a secure smile once again.
Visit the Dentist Near Me to Discuss Dental Implants!
The benefits of dental implants for tooth replacement are many — are you a candidate for the procedure? Find out more from your dentist in Lisle. We invite you to request an appointment today!

Comments Off

on Dental Implants in Lisle Surpass Every Other Option
No Comments
No comments yet.
RSS feed for comments on this post.
Sorry, the comment form is closed at this time.