October 25, 2017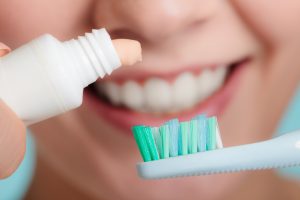 In one form or another, toothpaste has been around for thousands of years. The ancient Greeks and Romans used abrasive materials, like pumice and burnt eggshells, to scrub away things that got stuck on their teeth. The ancient Chinese used things like herbal mint, ginseng, and salt. Obviously, toothpaste has come a long way since then, but you might still wonder why it is so important, how you can choose a paste that is right for you, and how you can get the most benefit from your toothpaste. Your family dentist in Lisle is here to explain.
What Toothpaste Accomplishes
Bacteria love your mouth. They're constantly accumulating there throughout the day while you're eating and drinking. If they get to hang out there for too long, they interact with your food and create plaque, which in turn leads to cavities. Toothpaste helps to remove plaque and wash away some of those bacteria, leaving your mouth cleaner and healthier.
Toothpaste can do even more than that, though. Any worthwhile paste contains fluoride, a mineral that helps to restore tooth enamel and keep it strong. It might also be slightly abrasive or contain whitening agents, which help to give your smile a dash of extra luster.
Choosing the Right Toothpaste
There are abundant choices out there when it comes to toothpaste. Some are inexpensive and simple, while others come with a fancy label and sensational claims. Don't let all the packaging and hype confuse you. When you're shopping for toothpaste, the first thing you should do is look for the American Dental Association seal of approval, which signifies that the product is safe for your pearly whites.
Beyond that, the toothpaste that is right for you depends largely on your oral health needs. If your teeth are prone to cavities, you might choose a paste with a bit of extra fluoride in it or ingredients that stop plaque from hardening into tartar. If you experience pain when you eat hot and cold foods, you might benefit from a toothpaste that has ingredients to help control your sensitivity.
If you aren't sure which toothpaste is right for you, the best thing you can do is ask your dentist in Lisle the next time you go in for a routine cleaning. When a professional examines your mouth, they'll be able to identify specific needs that are unique to your teeth and gums.
Putting Your Toothpaste to Work
For your toothpaste to do its job properly, you need to put in a bit of work as well. Use about a pea-sized bit of toothpaste to clean your teeth. With gentle, short strokes with your toothbrush, spend about 30 seconds cleaning each quarter of your mouth. Also, be sure to clean your tongue because it can accumulate lots of bacteria and food residue as well.
Toothpaste is amazing! Use it at least twice every day to keep that smile of yours fresh, clean, and sparkling.
About Our Dentists
Drs. Frank ad Jeanelle Marchese are your family dentists in Lisle. They combine their expertise with the latest in dental technology to care for their patients. If it's time for your next cleaning and checkup, or you have questions about which products you should use to care for your teeth, please get in touch! You can contact us at 630-969-2310.

Comments Off

on Your Family Dentist Reveals the Truth Behind Toothpaste
No Comments
No comments yet.
RSS feed for comments on this post.
Sorry, the comment form is closed at this time.