December 5, 2017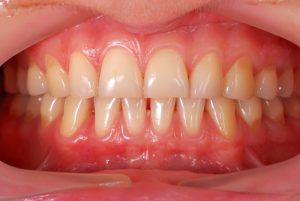 In the 2009-2010 study titled Prevalence of Periodontitis in Adults in the United States written by the Centers for Disease Control and Prevention (CDC), researchers found that nearly 65 million adults have mild, moderate, or severe periodontitis and this number is only increasing. In fact, this number increases to 70 percent for adults 65 and older. Dentists across the nation are doing everything they can to help patients reduce the common side effects that come with gum disease.
Your dentist in Lisle knows that gum disease is the most common disease in the United States above heart and lung disease. More recent data suggests about 80% of the population has some form of gum disease, whether it be mild or severe. Learn the steps to combat it and the procedures your dentist can provide.
Replace Your Toothbrush As Needed
The American Dental Association recommends that you replace your toothbrush (or toothbrush heads if you own an electric toothbrush) every 3-4 months or until the bristles become frayed. The newer the bristles are, the more effective they will be at removing plaque.
You should also replace your toothbrush if you are feeling sick. Toothbrushes are only designed to remove plaque, not kill bacteria or protect you from other disease. To prevent your illness from getting worse, consider switching to another toothbrush to help you practice diligent hygiene.
Kick Your Smoking Habit For Good
According to the CDC, patients have twice the risk for gum disease than non-smokers. Treatments designed to reduce gum disease are also not as effective for people who smoke. As you smoke cigarettes, your body's immune system becomes less effective because your infection fighters can't attack gum disease as well.
Smoking also causes more tartar buildup in your mouth due to a decreased flow of saliva. This tartar, also known as calculus, is a tougher form of plaque that is more difficult to remove.
Consider Scaling and Root Planing at Your Next Dentist Visit
Unfortunately, gum disease is incurable, but as your dentist performs regular checkups they can detect early warnings signs. During the early signs prevention is much easier and more manageable. However, if gum disease has set too deep in the pockets in between your gums and teeth, there are several treatment options available to patients. These include:
Scaling – This is a form of deep cleaning that dentists perform below the gum line to remove hardened plaque.
Root Planing – Another form of deep cleaning but more targeted on the teeth roots.
Antibiotic Therapy – Dentists will provide antibiotics to destroy and slow down the growth of bacteria in your gums.
Laser Treatment – This treatment removes bacteria as well as promote the reattachment of your gums.
Sticking to an oral health routine will help you remove plaque before you gums become inflamed. Contact your dentist in Lisle to schedule an appointment today!
About the Author
Dr. Frank Marchese has been practicing dentistry and building lifelong relationships with patients for decades. After earning his dental degree from the University of Illinois College of Dentistry, he continued to attend many conferences, meetings, and seminars to further his education. His practice also offers many treatments designed to reduce the progression of gum disease and gum disease symptoms. To contact his practice, you can reach him at (630) 969-2310 or visit his website.

Comments Off

on Reverse Gum Disease With Your Dentist in Lisle Today
No Comments
No comments yet.
RSS feed for comments on this post.
Sorry, the comment form is closed at this time.