February 1, 2018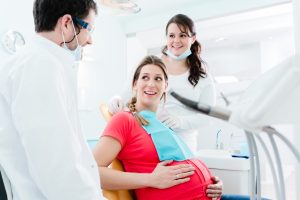 Did you know that when a woman becomes pregnant, they also become a high-risk dental patient? It's true! There are many changes that your body will undergo when you carry a baby. The good news is that you'll receive a new life from the experience and that you have a Lisle dentist that's more than happy to support you throughout your journey.
Keep your smile strong and overall health in good shape when you partner with your local dentist. Learn more about pregnancy and oral health in this week's blog post!
Why Does Pregnancy Affect Your Oral Health?
When you find out you're pregnant from your health practitioner, you should also notify your dentist along with the rest of your family members.  Why? Your dentist will be able to note your good news and pay close attention to your oral cavity to protect both you and your baby.
Your dentist will be looking for signs of these concerns while you're pregnant:
Gum disease. Hormonal changes can leave your gums swollen, puffy, and even cause bleeding during your dental routine. It's easy to develop gum disease, but with the help of your dentist you can avoid it.
Tooth decay. If you're eating more often or more carbs than you usually do, you might make yourself more prone to cavity development during your pregnancy.  Others may also experience morning sickness which leaves a nasty acid in the mouth to erode the enamel on your teeth.
Your dentist will be able to help you address these concerns when you openly communicate with them about your pregnancy during your dental visit.
Partner with a Dentist to Maintain Good Health for You and Your Baby
Your dentist wants to improve everyone's health—even the newest additions to your family. Your dentist will help you monitor a few things about your oral health while you're pregnant.
Current medications. Communicate about any medications or even prenatal vitamins that you're currently taking to your dentist. This way, your dentist will not prescribe you anything that could interfere with your current medication or pregnancy.
Safe Dental X-rays. You can also rest assured that dental x-rays won't harm you or the baby when conducted sporadically from your trained dental team.
As you can tell, your dentist is here for you no matter what—especially when you're preparing to be a new mom!
---
About Our Office
Here at Arbor Dental Care, we know that your health is of utmost importance when you're pregnant. That's why we take special care of you when you visit us, starting with the health of your teeth and gums. Call us the moment that you find out the good news and we will be sure to schedule you a visit with our dentist as soon as possible. We can't wait to treat you and the rest of your family!
Comments Off

on How Can a Lisle Dentist Help You During Your Pregnancy?
No Comments
No comments yet.
RSS feed for comments on this post.
Sorry, the comment form is closed at this time.