February 8, 2018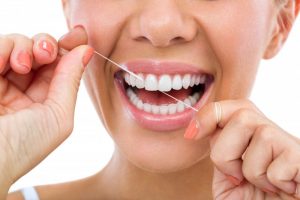 Every time we finish our regular dental cleaning, the dentist awards us with a complimentary cleaning kit to thank us for our efforts. This kit typically includes a travel size of toothpaste, floss, and a brand-new toothbrush. Since we're so used to our own at-home care tools, these items can easily find their way into a closet or drawer somewhere where it can sit for months and even years at a time. So, the next time you decide to buy more oral care supplies or clean out your bathroom, take this advice from your Lisle dentist.
Much of those items are still good! Here's how long you can expect them to last for.
Toothpaste
The manufacturing date for toothpaste is typically on the flat end opposite of the spout. This will be your point of reference when determining the quality of the paste itself. Once toothpaste is two years past its manufacture date (i.e. the date reads Feb. 2016) then it's time to toss it.
Dentists don't recommend using toothpaste past this date for two reasons. First, the flavors embedded in the paste will have waned, so you won't get that refreshing taste or lasting breath you would with new toothpaste. The other reason is due to the paste's ineffectiveness. When toothpaste ages, the fluoride inside it doesn't stick to teeth as well. This reduces its plaque-fighting and gum disease-reducing abilities.
Floss
Unlike, toothpaste, floss never loses its ability to remove plaque from the sides of teeth and protect you from gum disease. What better way to start flossing regularly than utilizing all the leftover floss that never got used?
If your floss is flavored in any way however, it will lose its flavor after about one year. If this bothers you, buy a new box, preferably waxed, as it's less likely to tear than unwaxed floss.
Toothbrush
If your toothbrush isn't used, it will pretty much last forever. If you've got a stash of toothbrushes lying around, make sure to keep them in open sight so you don't spend money unnecessarily. With regular use, toothbrushes can last about three to four months.
Once your brush becomes severely frayed, it will no longer be effective at removing plaque, especially on the sides of your teeth. Some toothbrushes even come equipped with colored bristles that fade, acting as a visual indicator of when to replace them.
Mouthwash
Mouthwash tends to have either alcohol or another type of antiseptic as its active ingredient. But since mouthwashes are mainly composed of water, this antiseptic will dissolve after about two to three years. This reduces the mouthwash's ability to reduce plaque and shield your teeth.
In fact, more water just means more bacterial growth, so once the mouthwash is two to three years past its manufacture date, toss it.
Your oral care supplies have a long shelf life, so don't bother buying more when you probably have some stashed away! Schedule an appointment with your Lisle dentist and you'll get more as well!
About the Author
Dr. Frank Marchese earned his dental degree from the University of Illinois College of Dentistry. To provide the best care possible, he's also earned over 1500 hours of continuing education. To learn more information on oral care supplies and treatments available at his practice, contact him at (630) 969-2310 or visit his website.

Comments Off

on "Don't Throw Away That Unused Floss!" Says your Lisle Dentist
No Comments
No comments yet.
RSS feed for comments on this post.
Sorry, the comment form is closed at this time.