April 5, 2018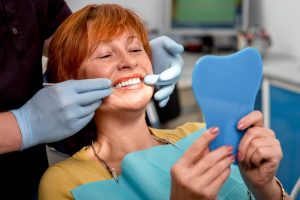 When it comes to dental technology, dental implants are one of the most advanced restorations you can get today. There are no tooth replacement options quite like dental implants, and dentists and patients have been taking notice. However, some patients have understandable concerns revolving around treatment for dental implants. Some are afraid of dental implant failure occurring, causing them additional stress, damage to their teeth, and more costs.
Luckily, when you choose dental implants in Lisle, you're not just getting replacement teeth. You're also getting piece of mind. Keep reading to learn how!
Dental Implant Success Rates Are Higher Than Ever
For several decades, dental implants have become far more advanced than when they were first introduced to dentistry. Thanks to a breakthrough in the 1950s, dentists can now give patients better confidence that their implants will successfully integrate with their existing bone. By using posts made of titanium, a material that is naturally compatible with the body's organic tissue, the success rate of dental implants has reach very high percentages.
When you get dental implants in Lisle, you can expect success rates as high as 95 percent, given that you practice regular oral hygiene, avoid using tobacco products, , and have enough bone to support them.
How Your Dentist Stays Up to Date
Of course, the success rate of your dental implants is also largely influenced by the abilities of your dentist. For example, your implant dentist has taken additional schooling outside of the standard curriculum, so he can provide the best chance of success for your implantation. Part of this reliability involves staying up to date on the latest advancements in implant technology.
By attending educational institutions specifically for teaching the process of surgically placing implants, as well as maintaining membership in dental organizations, your Lisle dentist knows the best techniques to place dental implants and keep them healthy.
For example, your dentist knows that bone grows against roughened surfaces more effectively than smooth ones. This dramatically shortens the healing period associated with dental implants, helping patients like you get restorations placed sooner.
More Options When Using Dental Implants
Technology surrounding dental implants has advanced so much, they can be used for a wide variety of dental cases, besides single-tooth replacement. They include:
All-on-4 implants – A unique treatment that utilizes 4 implants to replace an entire arch
Implant-retained dentures – A treatment that uses implants to hold full or partial dentures more securely than gum tissue
Dental implant bridges – A treatment that uses two or more implants to hold restorations together
Whether you're trying to replace a single tooth or multiple teeth, your dentist can use dental implants in Lisle to bring back the full functionality and aesthetic of your smile, without the worry of implant failure. Schedule a free consultation today to learn more!
About the Author
Since Dr. Frank J. Marchese earned his dental degree from the University of Illinois College of Dentistry, he's stayed up to date on the latest implant techniques and technologies. He's completed many surgical and prosthetic programs at the Misch International Implant Institute and is a fellow in the International Congress of Oral Implantologists. To learn more about his expertise or practice, contact him at (630) 969-2310 or visit his website.

Comments Off

on Don't Fear Failure When Getting Dental Implants in Lisle!
No Comments
No comments yet.
RSS feed for comments on this post.
Sorry, the comment form is closed at this time.