April 20, 2018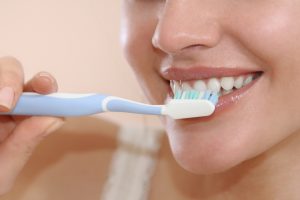 Your normal morning routine is to roll out of bed, head into your restroom and commence brushing your teeth. But what if this daily routine of yours has flaws in its execution that are actually hindering your oral health and preventive care? Your family dentist in Lisle says there are 5 common mistakes that many people make while brushing, which you'll discover as you continue reading.
5 Mistakes to Avoid When Brushing
Here are 5 common mistakes that you could be making while brushing your teeth:
Not Cleaning Frequently Enough – A basic rule of thumb for how frequent to brush your teeth is that, at a minimum, brushing should be done two times a day. It's important to brush when you rise because your mouth grows bacteria while you sleep, which is evident by "morning breath." It is equally important to brush before retiring to bed because that affects how many bacteria will be present in your mouth while you slumber and helps in removing excess food particles.
Using Electric Toothbrush – If you have sensitive teeth and gums, using an electric brush could be problematic. This is because it doesn't allow you to adjust the pressure applied from the bristles. Thus, you may suffer bleeding gums and more sensitivity in your teeth due to damage to your enamel.
Using Firm Bristles – Along the same lines, using a manual toothbrush with firmer bristles could irritate your gums and damage your teeth. A common misconception is that the harder the bristles and the firmer the pressure you use, the better your teeth will be cleaned. In reality, though, what matters more is your technique.
Forgetting to Rinse – It may seem like a minor oversight to forget to rinse your teeth after brushing, but it can be counterproductive to your oral care efforts. That's because it plays a key role in removing bacteria and debris from your teeth and mouth. Keep in mind that your brushing routine mainly agitates and breaks up food particles, while rinsing removes the loosened substances from your mouth.
Not Replacing Your Toothbrush – Every 60 to 90 days, you should replace your toothbrush. Failure to do so leaves you vulnerable to infections because bacteria get wedged between the bristles. Thus, over time your toothbrush can morph from a weapon to fight bacteria into a tool that carries them into your mouth.
Keeping these points in mind will ensure that you get more out of your brushing efforts.
The Time is Now!
So now that you're more informed on how to brush properly, take the next step in protecting your dental health by reaching out to your local dentist to schedule an appointment today!
About the Author
A graduate of the University of Illinois College of Dentistry, Dr. Frank Marchese has been transforming smiles for over 30 years. Still, he remains committed to expanding his bank of knowledge by taking continuing education courses and attending seminars throughout the year. Dr. Marchese practices at Arbor Dental Care and can be reached for more information through his website.

Comments Off

on Your Family Dentist in Lisle Says Avoid These 5 Brushing Mistakes
No Comments
No comments yet.
RSS feed for comments on this post.
Sorry, the comment form is closed at this time.