May 10, 2018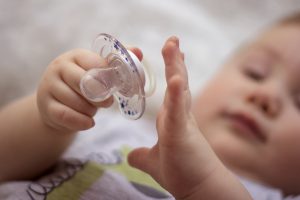 One thing that's a given with babies is that they'll cry, because it's their only way to convey messages of hunger, discomfort, the need for a diaper change or maybe just some attention. As a parent, you eventually learn what the different cries are for and discover how certain things like a pacifier can help in providing some temporary comfort. As he or she gets older and waned from milk, you may even notice a tendency to suckle the thumb, as your child learns self-soothing techniques. Your family dentist in Lisle says this shouldn't be ignored, though, because it could lead to dental problems, which you'll learn about as you continue reading.
Dental Issues with Pacifiers and Thumb-Suckling?
Let's take a look at some of the dental issues that can arise from prolonged usage of pacifiers and thumb suckling:
Pacifiers – One thing to keep in mind about the early stages of life is that the human body is the most malleable during this phase. Thus, prolonged use of a pacifier can cause the mouth to be shaped improperly, leading to tooth abnormalities later on. This is due to the fact that as your baby's jawbone grows, it adjusts to any object that's constantly in his or her mouth. As a result, when the teeth start growing in, you may notice that the upper row emerge crooked or tipped forward, showing signs of malocclusion (poor bite).
Suckling the Thumb – As your child transitions into the toddler phase and has begun to be waned off milk, you may notice a shift to suckling his or her thumb. This can be a more detrimental habit than pacifier reliance because the thumb is always available for your little one to access. Given that it can cause the same problems as the pacifier, this habit should be definitely discouraged.
How to Help Children Break These Habits
Here are some tips to keep in mind when trying to break the habit of either pacifier or thumb suckling:
When your child shows restraint, it's great to applaud and celebrate it, relying heavily on encouragement to help in altering his or her behavior.
Try to avoid scolding him or her for using the pacifier or suckling the thumb. This could possibly lead to a reversal of all the progress you've previously made.
It also helps to pay close attention to what types of situations lead to pacifier or thumb suckling. Is it anxiety based? If so, work with your little one on limiting stressful situations.
Can Your Dentist Help?
The moment your child's first tooth erupts, you should schedule a visit with your Lisle dentist so that he can monitor the growth of his or her ivories. Furthermore, he'll be able to provide expert advice on how to encourage healthy habits.
About the Author
A graduate of the University of Illinois College of Dentistry, Dr. Frank Marchese is not only a 30-year veteran of the dentistry field, he is also a father. Thus, he understands the challenges that parents face with guiding their children's dental health. Dr. Marchese offers a safe and comfortable environment for the whole family to experience the best dental care at Arbor Dental Care. He can be reached for more information about his services through his website.

Comments Off

on Your Family Dentist in Lisle Provides Tips to Stop Pacifier Use
No Comments
No comments yet.
RSS feed for comments on this post.
Sorry, the comment form is closed at this time.