June 2, 2018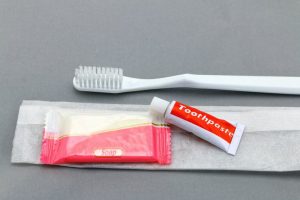 Now that summer has arrived, there's no telling where adventure may take you. No matter what you decide to do, you want to make sure that you can maintain your oral health by continuing with your basic daily functions – one of which is brushing your teeth. So that you can plan properly, you're wondering how long your travel-sized toothpaste will last. As you read on, your family dentist in Lisle weighs in with the answers you need, so that you'll be better prepared to hit the open road!
How Much Toothpaste Should I Be Using?
In our quest to figure out how long your travel-sized toothpaste will last, let's first start with establishing what the correct serving size is. Dentists agree that the amount you need to use per brushing session is a "pea-sized dab." This comes out to roughly 1/16 of a teaspoon. By staying close to this amount, you can maximize the usage of your toothpaste.
Getting to the Numbers
Let's take a look at a standard usage of .02 ounces per serving to figure out the longevity of travel toothpaste. Given that these modified tubes hold roughly .85 ounce (24g) of toothpaste, you'd be able to get up to 42.5 uses out of it, which translates into 14 days. If you follow the pea size recommendation, though, you can get up to 28 days of usage out of one tube, based on the standard frequency of two brushes per day.
Now that you know, you can plan accordingly, so that there will be no interruptions to your vacation that require you to hunt for toothpaste. At the same time, you also won't have to worry about overpacking.
Why is Brushing Your Teeth So Important?
This is important to iron out before you head out on your next trip because it's a part of your normal daily activities that you can't afford to miss. Your consistent regimen will not only help to keep your breath fresh while you're out touring and having fun; it also will ensure that you're protected from harmful bacteria that are always on the prowl looking for leftover particles in your mouth to feed on.
After all, you don't want to sacrifice your oral health for a trip, and you want to remain just as healthy afterwards as you were before.
Your oral health matters greatly, so if you have other questions about how to protect your mouth, teeth and gums while traveling, contact your dentist in Lisle for a consultation today.
About the Author
Dr. Frank Marchese earned his dental degree from the University of Illinois College of Dentistry and has since gone on to provide exemplary care to his patients for over three decades. Still eager to stay abreast of the latest changes in dentistry, he annually attends conferences, meetings and seminars in addition to the over 1500 hours of continuing education that he's taken. Dr. Marchese helps patients enjoy the absolute best oral health at Arbor Dental Care and can be reached for more information through his website.

Comments Off

on Your Family Dentist in Lisle Says Make Travel Toothpaste Last!
No Comments
No comments yet.
RSS feed for comments on this post.
Sorry, the comment form is closed at this time.