June 20, 2018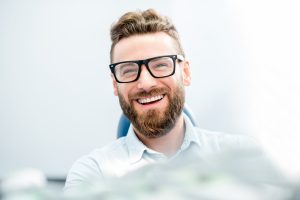 For years, you've been staring into the mirror with a degree of regret. The problem is that you're not happy with the way your smile looks, but what can be done about it? Whatever you look to change about your teeth's appearance, your cosmetic dentist in Lisle has a method available to totally remake your ivories. Learn about your many options as you read on!
What is Cosmetic Dentistry?
This is the form of oral care geared toward improving the aesthetics of your smile. It's important because it enhances the way you feel about yourself to have teeth that you're proud of. Researchers have recently discovered that your self-esteem factors greatly into your overall health. That's because having a positive outlook on life and the image of yourself triggers health-enhancing hormones like endorphins and dopamine to be released into the bloodstream.
Your dentist has several methods to help you achieve this goal.
Teeth Whitening
Everyone wants to have beautiful white teeth that gleam when they smile. With professional teeth whitening from your local dentist, this can become reality. For your convenience, your dentist offers both in-home and at-home whitening procedures. No matter which method you choose, you'll enjoy a brand-new looking smile after the treatment is done!
Cosmetic Bonding
Do you have any small chips, gaps or stubborn stains that won't go away? If so, then cosmetic bonding is perfect for your needs. The one-day process involves your local expert using a compound resin material to build up and reshape your teeth to perfectly match your other ivories and mask any imperfections. After hardening the material using a special light, your dentist will then polish the treated area, leaving you with teeth that gleam with perfection!
Porcelain Veneers
An alternative to cosmetic bonding is the porcelain veneer option. It uses thin ceramic shells that adhere to your teeth to mask gaps, crookedness, crowding, stains and chips. The process starts with your dentist removing a thin layer of enamel, then capturing images and taking bite impressions that will be sent to an in-network lab that will fabricate your new shells.
When your permanent veneers are ready, you'll return to be fitted. On that day, you'll leave your dentist's office with a beautiful new smile!
Invisalign
Gone are the days when the only way to fix your bite issues was with traditional braces. You now have a way to straighten your teeth without the humiliation of wearing metal brackets and wires in your mouth. Invisalign clear aligners will afford you the following advantages:
A discreet look throughout the treatment process
The convenience of being able to remove your trays to eat and perform oral hygiene
A quicker treatment process
No dental visits for adjustments
Now that you know what your options are for perfecting the look of your teeth, the next step is to reach out to your dentist in Lisle to schedule a consultation. The smile of your dreams is just a phone call away!
About the Author
For over 30 years, Dr. Frank Marchese has been a leader in the field of dentistry in the Lisle community. Throughout his career, he's remained committed to helping his patients achieve the best version of their oral health, whether it's restorative or aesthetic care that he's providing. Dr. Marchese transforms smiles at Arbor Dental Care and can be reached for more information through his website.

Comments Off

on You Deserve a Smile Makeover from Your Cosmetic Dentist in Lisle!
No Comments
No comments yet.
RSS feed for comments on this post.
Sorry, the comment form is closed at this time.