September 3, 2018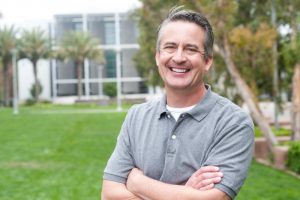 Whether you currently have dental implants or are researching your tooth replacement options, you may be wondering how long your implants will last? If you already chose dental implants in Lisle, you've picked a great, long-lasting replacement to complete your smile. But, how long do they last and how do you know when they need replacing? Keep reading to learn how to get the most out of your implants and make them last as long as possible.
What Are Dental Implants?
Think of dental implants as artificial roots for your teeth. These implants are metal posts that are placed in your jawbone to provide a sturdy base for your restoration (artificial teeth). After the post is placed in the jaw, beneath your gumline, your dentist will use a connector to attach your custom-made restoration for a beautiful smile. Dental implants are the only replacement option that stimulates bone to keep your jawbone strong.
How Long Will My Implants Last?
Dental implants have quickly become one of the most popular choices for long-term tooth replacement but how long do they last? The implant itself (the artificial root described above) can last a lifetime if taken care of properly. The restoration or artificial tooth will typically last 10 to 15 years before normal wear and tear will require a replacement. However, the true answer lies in how well you take care of your oral health and if you regularly see your dentist.
What Can I Do to Make My Implants Last Longer?
Dental implants are already a great long-term solution for missing teeth, but there are some tips you need to know on how to get the most out of your implants:
Good diet: Always drink a lot of water to continually wash out debris around your implant. Also, avoid any sticky or sweet foods as much as possible.
Brush and floss every day: Brush at least twice a day and floss once a day. Brushing is the most important way to keep your restoration healthy and clean.
Kick the butt: Smokers have a higher risk of implant failure, mainly because it causes bone loss. Getting rid of your smoking habit will help you get the most out of your implants and reduce tartar buildup in your mouth.
See your dentist: Your dentist is an expert and will be able to identify any problems so he or she can prevent them before they happen.
With our provided tips you'll be able to get the most out of your replacements. If you have implants, your smile is already shining and healthy. Make sure you practice a good oral healthcare routine and see your local dentist to make your implants last as long as possible!
Meet the Dentist
Dr. Frank Marchese has been transforming smiles and building patients' confidence for over 30 years. He is ready to help you with any dental implant needs or questions you may have. He stays up-to-date on all the latest techniques and technologies through continuing education courses. He currently practices at Arbor Dental Care where he can be contacted by phone at (630) 969-2310 for any questions.

Comments Off

on How Long Will My Dental Implants in Lisle Last?
No Comments
No comments yet.
RSS feed for comments on this post.
Sorry, the comment form is closed at this time.