November 4, 2018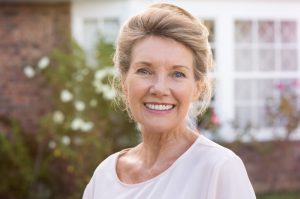 Do you have dentures in Lisle? They are one of the most common dental restorations on the market, and they've been used for hundreds of years to help complete smiles. For as long as they've been used, patients have battled with slipping and sliding dentures that cause embarrassment and discomfort. Thankfully, modern dentistry has brought a comfortable and easy way to wear your dentures without worrying about a sliding prosthesis or discomfort when you eat. Keep reading to learn the solution to ill-fitting dentures!
The Best Way to Secure Dentures
If you need dentures, you're not alone. It is estimated that over 37 million people will be wearing full dentures by 2020. These devices give patients a way to eat, chew, and talk without natural teeth, but they've been known to cause discomfort. Thankfully, a solution is here: implant retained dentures. Using dentures that are retained by dental implants, you can enjoy all of your favorite food with replacement teeth that are comfortable and easy to wear.
The Solution: Implant-Supported Dentures
Implant-supported dentures start off with the placement of dental implants. These are tiny metal posts that act as artificial tooth roots for your restoration. They bond to your jaw bone to create a lasting, sturdy support. After that, your dentist will allow your dentures to easily click into place with your implants. This creates a secure foundation that will hold your smile in place for any talking, laughing, or chewing that can occur throughout your day.
The Benefits You'll See with Implant-Supported Dentures
Many people go through life accepting the difficulties of wearing dentures because they don't know about a solution. Check out some of the most common issues with this prosthesis that implant supported dentures eliminate:
Slipping dentures: Dentures tend to slip and slide around your mouth, especially as they age. Slipping dentures can make eating, speaking and smiling stressful and embarrassing around friends and family.
Uncomfortable gums: The friction created by poor-fitting or slipping dentures can cause serious discomfort for your gums. Some gums start to swell, develop sores, or need separate attention of their own.
Loss of Tissue: Those who wear dentures often look older than they actually are because of bone deterioration caused by tooth loss. As you lose your teeth, your jawbone has less and less to stimulate it, which causes the bone to deteriorate.
Because dental implants are fused to the jawbone, they stimulate and preserve the bone, which helps to preserve your facial structure as well.
Now that you know the solution to the annoying problem of sliding and uncomfortable dentures, do implant-supported dentures sound right for you? Talk to your dentist in Lisle to get started on a stable solution for your new smile.
About the Practice
Dr. Frank Marchese has been providing quality care for his patients for 30 years. He's proud to serve his community alongside his daughter, Dr. Jeanelle Marchese. They know the discomfort and self-consciousness associated with dentures, which is why they offer an expert solution at their practice. They currently practice at Arbor Dental Care, and they can be contacted through their website or by phone at (630) 969-2310 for any questions.

Comments Off

on How to Fix Sliding or Slipping Dentures in Lisle
No Comments
No comments yet.
RSS feed for comments on this post.
Sorry, the comment form is closed at this time.