December 15, 2018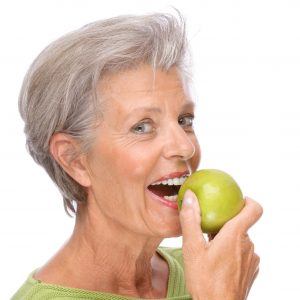 One of the great perks of having dentures is that you don't have to worry about the possibility of tooth decay in the future. Still, your dentist warns that this isn't a "green light" to stop visiting for preventive care. Read on to find out why semi-annual visits are still important for patients with dentures in Lisle.
It's More Than Just Teeth
One of the reasons that you should still visit your dentist semi-annually for cleanings and checkups is that your oral health isn't just centered on your teeth. In actuality, the condition of your gums plays a more integral role in your oral health.
By maintaining these visits, your dentist will be able to monitor your gum health to make sure no new problems have arisen. This is important to keep in mind because most people with dentures have a history of gum disease, and its effects extend beyond just the well-being of your teeth.
Other Reasons to Visit the Dentist
In addition to monitoring your gum health, preventive care visits provide the following benefits:
Oral Cancer Screening – According to recent data, over 40,000 people are diagnosed with oral cancer each year, with nearly 8,000 of the cases being fatal. At a routine, six-month visit, your dentist will perform an oral cancer screening to look for any signs of the disease. Thus, if it is detected, an early treatment protocol can be developed.
To Monitor the Condition of Your Dentures – Over time, your jawbone can shift, which can contribute to deviations in how your dentures fit. Additionally, your dentures can suffer wear, which can also affect their degree of comfort. By maintaining preventive care visits, your dentist will be able to monitor the condition of your dentures and create a plan to make any corrections needed.
What You Can Do Between Visits
Along with maintaining regular visits with your dentist, you should be sure to consistently and thoroughly clean both your dentures and gums to remove harmful bacteria that can cause a host of dental health issues. Worse is the fact that bacteria can even have a negative effect on your overall wellness.
To make for a more successful dental visit, here are some tips for caring for your dentures:
Soak them at night.
Don't drop them.
Avoid biting into really hard substances like ice.
Clean your dentures thoroughly when you remove them and before reinserting.
If you have issues with grinding your teeth, seek help immediately.
By being more assertive in your efforts to maintain your oral health and dentures, and by visiting your dentist in Lisle, you can enjoy an amazing and functional smile for many years to come!
About the Author
For 30 years, Dr. Frank Marchese has provided comprehensive and compassionate care. A graduate of the University of Illinois College of Dentistry, he remains just as dedicated to helping patients enjoy the best in oral health today as he was when he first entered the dental field. Dr. Marchese provides preventive care for denture wearers at Arbor Dental Care, and he can be reached for more information through his website.

Comments Off

on If I Have Dentures in Lisle, Do I Still Need to Visit My Dentist?
No Comments
No comments yet.
RSS feed for comments on this post.
Sorry, the comment form is closed at this time.