February 8, 2019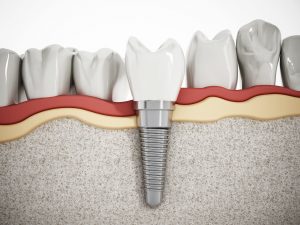 Are you experiencing problems with your new dental implant? Poor oral hygiene and gum disease can have you back in the dentist's chair for a repair if you're not careful. However, if you're doing everything right at home and you're still having trouble with your implant, it could be related to your overall health. If you're unsure if your dental implants in Lisle may be worsening, keep reading to learn why they fail, tips for prevention, and what can be done to fix it.
Show Me a Sign! Ways to Tell if Your Dental Implants Are Failing
When you hear titanium and jawbone, you may think, "That's pretty strong. Nothing's going to cause that tooth to budge!" Unfortunately, that's not always the case. Here are a few signs your dental implant may be failing:
The implant is shifting/moving
Pain, swelling, or bleeding
Bone Loss
Infection
Give Me a Reason! Why Dental Implants Fail
Now that you know some of the signs, you may still be struggling to understand why your implant is failing. Below are a few reasons:
Poor oral hygiene: Bacteria growth due to poor oral hygiene and gum disease can cause an implant to fail, so make sure you are consistently brushing twice a day for two minutes and flossing.
Infection: Depending on the severity, the bone and gum area around the implant can deteriorate. This is known as peri-implantitis. Signs include pus and bleeding gums.
Health conditions: Patients with uncontrolled diabetes, osteoporosis, or autoimmune disorders may have a harder time if their bodies don't heal quickly. This is because of the implant's inability to fuse to the bone.
Prevention
Practicing good oral hygiene is one of the most effective ways to ensure your dental implants don't fail, but there are other ways to make sure they stay put for years to come.
Stop smoking. It can weaken the bone structure supporting your implants.
Visit your dentist every six months for regular checkups to ensure they are in good shape.
Resist the urge to chew hard foods (ice, hard candy) as it can break the crown.
If your dental implant has failed, your dentist may remove it and gently clean the area before replacing it. However, if you suffer from bone loss, you may need a bone graft, which may take months to heal before a new implant can be placed.
Get the help you need to fix your dental implants. In no time, you will have a restored smile that you can be proud to show off!
About the Practice
If you're looking for modern, advanced dental care, Arbor Dental Care is the answer! Dr. Frank Marchese, a dentist in 60532, is a trusted source for restorative dentistry. He and his team are dedicated to providing results that are natural and blend with your smile. Contact us at (630) 969-2310 to learn more about our services.

Comments Off

on How to Tell When Your Dental Implants in Lisle Are Failing
No Comments
No comments yet.
RSS feed for comments on this post.
Sorry, the comment form is closed at this time.