March 10, 2019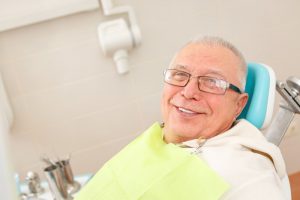 With the emergence of dental implants in Lisle, patients no longer have to settle for dentures as they're only way to replace missing teeth. Instead, they can now enjoy the full function and appearance that come along with having their smile restored with dental implants. How much of an investment is required, though? Read on for a detailed explanation of how the price is determined and to learn about the different aspects of implant placement.
What Makes the Dental Implant Effective?
A dental implant is a titanium post that is surgically inserted beneath the gums and into the jawbone. Over a series of months, the fixture will fuse with the existing bone through a process called osseointegration.
As an example of the marvelous internal technology of the human body, bone cells will form a network of new material around the implant to ensure its stability. Thus, a level of security is created that can only be matched by the natural teeth roots.
A Dental Implant Price Breakdown
When considering the average cost of a dental implant, it's best to look at the different stages of the process.
#1 – Implant Placement
The initial placement requires an incision into the gums, which allows access to the underlying bone. After the implant is placed, it can take up to six months for the jaw and gums to heal.
For this stage of the procedure, the price range can be broad, from $500 to $10,000.
#2 – Abutment Attachment
Typically, the abutment will also be made from titanium. It's screwed into the implant, and it allows a final restoration to later be securely attached. After the abutment is placed, additional healing time is needed.
The price range for this part of the process is generally from $500 to $1,500.
#3 – Restoration Placement
Once sufficient healing has occurred, the final restoration can be added. The type used depends on the number of teeth missing.
A crown is used to replace a single tooth, but for three or more consecutively missing teeth, an implant-supported bridge can be placed. Then, to replace a full arch or a complete set of teeth, implant-supported dentures provide the perfect remedy.
The average cost for this part of the process is usually $500 to $2,500.
Why a Consultation is So Important
While the above information gives an idea of what you can expect to pay to receive one or more dental implants, the best way to get an accurate price is to visit your dentist for a consultation. In addition to undergoing a thorough examination, you'll also have a chance to ask any questions you may have.
The path to complete recovery from your missing teeth starts by contacting your dentist in 60532 today!
About the Author
Dr. Frank Marchese has been providing the best in dental care for over 30 years. Still, the University of Illinois College of Dentistry graduate remains passionate about every aspect of the dental profession. As part of his commitment to life-long learning, Dr. Marchese has received advanced training from the L.D. Pankey Institute and the Misch International Implant Institute. He helps patients once again lead normal lives by placing dental implants at Arbor Dental Care, and he can be reached for more information through his website.

Comments Off

on How Much Should You Expect to Pay for Dental Implants in Lisle?
No Comments
No comments yet.
RSS feed for comments on this post.
Sorry, the comment form is closed at this time.