April 3, 2019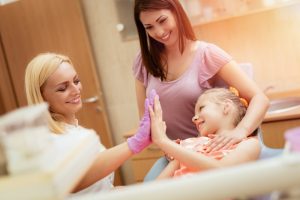 Do you know what you should be searching for when looking for a family dentist in Lisle? It can be difficult determining if it might be better to see a general practice dentist or someone who can care for all the members of your family. To help you navigate your search, let us help with these 4 useful tips.
What Makes a Family Dentist Different?
Do you want someone who can care for you and your spouse as well as your children? Maybe you need a crown for a damaged tooth, or your child needs preventative care for his or her baby teeth. Either way, a family dentist can serve as your one-stop shop when it comes to comprehensive dentistry.
To better understand the differences between a general dentist and a family dentist, let's take a look:
Patients: Some general dentists will not see patients under the age of 16. A family dentist sees patients of all ages, from the youngest to the oldest member of your family.
Specializations: Just as it is with age, a family dentist can provide dental procedures for all ages, making it easy to care for all of your family's dental needs in one location.
Education: A family dentist is able to discuss and teach an elderly person how to clean their dentures, as well as a young child proper oral hygiene techniques, such as brushing and flossing. A general dentist will be unable to provide useful tips to all members of your family.
What Should I Look for When Searching for a Family Dentist?
If the idea of seeing a family dentist sounds good to you, you may be eager to start your search. But what should you look for? Are there criteria you want that may be different than your child? Don't worry! Let us help you find the perfect Lisle dentist for you and your family using these 4 tips!
Experience: Look for someone with a wide range of experience. You want someone who can treat all members of your family, no matter the age.
Practical: Consider someone who is close to where you live, is affordable, and who has hours that fit your schedule.
Kind Demeanor: You don't want someone who is cold and has no personality, right? Make sure you choose a family dentist who is welcoming, nonjudgmental, and who exhibits a calm and reassuring demeanor, especially with your children.
Knowledgeable: In addition to experience, you also want someone who understands the developmental changes of your child's oral health.
If you're unsure where to look or how to get started, the best place to begin is by going online and looking at different websites. Reading the bios of the dentists can help familiarize you with their practice, educational background, and overall expertise. It's also beneficial to call and/or visit their dental offices to get a feel of the staff and appearance of the office itself.
Finding a family dentist doesn't have to be so difficult. Follow the tips provided, and before you know it, you'll have chosen someone the who family will love.
About the Practice
If you're looking for modern, advanced dental care, Arbor Dental Care is the answer! Dr. Frank Marchese is a trusted source for restorative dentistry. He and his team are dedicated to providing results that are natural and blend with your smile. Contact us at (630) 969-2310 to learn more about our services.

Comments Off

on 4 Tips to Finding a Family Dentist in Lisle Everyone Will Love
No Comments
No comments yet.
RSS feed for comments on this post.
Sorry, the comment form is closed at this time.