April 15, 2019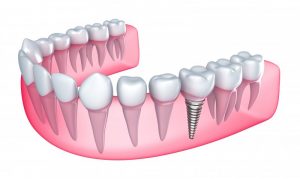 Have you lost a tooth and need a solution to replace it? Missing teeth can not only cause problems with your self-esteem, but it can wreak havoc on your oral health. From bone loss to shifting teeth, you don't want that vacated socket to stay that way for long, which is why dental implants in Lisle are the best solution. Find out why your dentist suggests this method of tooth replacement over traditional bridges and/or dentures.
What Are Dental Implants?
If you're wanting a complete, beautiful smile, then look no further than dental implants. Made of titanium, these posts act as your tooth's root. Once they are surgically placed into your jawbone, your dentist will allow for a few months of healing to ensure the implant properly fuses to the bone. Once the healing is complete, you will return to receive a customized crown that will sit atop your implant. These crowns are customized to match the color, shape, and size of your nearby teeth, making it impossible for anyone to notice it's an artificial tooth.
Why Are They Better Than Dentures or Bridges?
When you think about missing teeth, you may automatically begin to associate it with dentures; however, that's not always the go-to solution for a single tooth replacement. When it comes to choosing the right solution, here's why you should opt for dental implants.
Durability
Dental implants are more durable than a bridge or denture. This is because it is surgically implanted into your jawbone, adding extra security. Depending on the type of denture, it can lack the stability you want because of accidental slippage. A bridge, while stable, requires your natural teeth to hold it up. If your natural teeth deteriorate for any reason, your bridge could fail.
Longer Lasting
Dental implants can last for decades and even a lifetime if properly care for and maintained. Dentures often need replacing every 5 to 8 years, and bridges can last 8 to 10 years.
No Effect on Natural Teeth
Because dental implants act as their own teeth, its surgical placement does not affect any of your surrounding teeth. Partial dentures use clips or brackets to secure it in place around your nearby teeth, and a bridge requires nearby teeth to hold it in place.
Natural Look and Feel
Dental implants blend seamlessly with the rest of your smile because of the customized crown. Although dentures have come a long way in how they look and feel, it can still be difficult disguising your treatment, especially if your adhesive fails or you must remove your dentures for any reason.
If you want a stronger, more durable, and longer-lasting tooth replacement, there's no better option than dental implants. Talk to your dentist today about how you can take back your oral health today.
About the Practice
If you're looking for modern, advanced dental care, Arbor Dental Care is the answer! Dr. Frank Marchese, a dentist in 60532, is a trusted source for restorative dentistry. He and his team are dedicated to providing results that are natural and blend with your smile. Contact us at (630) 969-2310 to learn more about our services.

Comments Off

on Need a Tooth Replaced? Discover the Benefits of Dental Implants in Lisle
No Comments
No comments yet.
RSS feed for comments on this post.
Sorry, the comment form is closed at this time.