June 28, 2019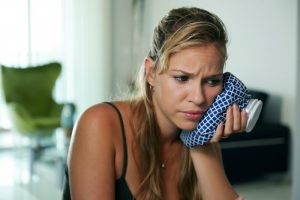 You don't like making a big fuss about something small, which is why you're hesitant to schedule an appointment with a family dentist in Lisle for your toothache. Leaving oral health problems untreated can just make them turn into an issue that's even harder to treat. If you're suffering from a searing toothache, here are some things to keep an eye out for. Learn what could be causing you oral discomfort and distracting you from your work by reading below.
See The Dentist When…
Having sharp or long-lasting pain in your mouth can distract you from your day-to-day responsibilities. So, how do you know when it's serious? When your toothache has been lingering for over two days, it's time to schedule an appointment with your dentist. Some other signs that it could be a problem you should address immediately include:
You're experiencing a searing pain
You have a fever or chills
When you open your mouth, you have an earache or experience pain
Serious Symptoms Of Toothaches
It's important to see a professional as soon as possible if you're experiencing any of these symptoms. Also, be sure to keep an eye out for some serious tell-tale symptoms that could point towards a dental emergency. These include:
A rash on your face
Bleeding gums
Chest pain
Jaw pain
Trouble chewing and swallowing
Your pain could be caused by one or multiple problems, which is why it's important to visit your professional for an official diagnosis so you can receive proper treatment.
Potential Causes Of A Toothache
There could be multiple reasons that you're experiencing searing pain in your mouth. Whether it's due to dental trauma, or an abscessed tooth, it's important to assess your pain and schedule an appointment with your dentist in Lisle right away. Be sure to inform them of your symptoms over the phone, as well. A few common problems that could be causing your discomfort include:
Gum Disease- This issue is typically caused by poor oral hygiene and can result in gum recession, irritated gums, and even tooth loss.
Dental Trauma- If you play contact sports or participate in activities, be sure to wear a mouth guard to avoid any object making contact with your teeth and mouth. Depending on the damage, dental emergencies can result in severe pain and discomfort.
Cavity and Decay- When a cavity isn't treated with a filling, it can cause severe decay that can infect the pulp of your tooth that houses nerves. When this happens, it can cause severe pain and your dentist may recommend root canal therapy.
No matter what the cause of your toothache is, it's vital that you take care of your mouth and visit your dental professional immediately to get the care you need. Leaving problems untreated can just result in more headaches down the road. Keep your oral health on track by knowing when it's time to schedule that appointment!
About the Author
Dr. Frank Marchese has been improving and transforming smiles for over 30 years. He enjoys building lifelong relationships with his patients and getting to know them so he can provide them with the treatment they need. He keeps up with the latest advancements in his field by regularly attending conferences, meetings, seminars, and has completed over 1500 hours of advanced dental training. To schedule an appointment or for any questions, visit Arbor Dental Care's website or contact  630-969-2310.

Comments Off

on A Family Dentist In Lisle Lets You Know When To Be Concerned About A Toothache
No Comments
No comments yet.
RSS feed for comments on this post.
Sorry, the comment form is closed at this time.