July 13, 2019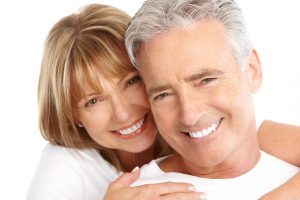 Do you remember the last time you took a bite into a big juicy steak? If you're missing one or more teeth, it has probably been far too long. You've considered dentures, but they can slip around too easily for you to eat chewy foods like steak. What if there was another tooth replacement option that can't slip around? Fortunately, there is – dental implants. According to a family dentist in Lisle, IL, implants can dramatically improve your quality of life. Keep reading to learn more.
What Are Dental Implants?
Dental implants are metal posts that mimic tooth roots. They are inserted into the jawbone where a tooth is missing. After a few months, the jawbone grows around the post, and because it's made of biocompatible titanium, the body will generally not reject it. A restoration like a crown or bridge is attached over the implant to make it look and feel more like a natural tooth. Unlike dentures, dental implants in Lisle cannot come loose in the mouth. They are designed to be a permanent solution to missing teeth.
How Do Dental Implants Improve Quality of Life?
A recent study out of McGill University in Montreal studied patients who had undergone dental implant surgery and measured their quality of life against patients who instead received dentures or did not replace their missing teeth. The study shows that people with dental implants eat better, are generally healthier, and seem to overall enjoy life more than those without implants.
One reason could be that implants function exactly like natural teeth. This allows patients to eat crunchy, sticky, or chewy food with no problem, as opposed to those with dentures that can slip around. Many healthy foods, like meat, fruit, and vegetables, require a certain amount of chewing power that those with missing teeth simply cannot achieve without dental implants.
Are Dental Implants Right for Me?
In order to be considered a good candidate for dental implants, you must have healthy gums and an adequate level of jawbone. If your gums aren't healthy, you and your dentist can work together to fix that issue before the surgery can be performed. If you don't have enough jawbone to support an implant, you may require a bone graft procedure.
If it has been too long since you have enjoyed life to the fullest, consider replacing your missing teeth with dental implants. The quality of your mouth, as well as the quality of your life, will improve.
About the Author
Dr. Frank Marchese has been practicing dentistry in the Lisle, IL area for more than 30 years. He has achieved Fellowship status with the International Congress of Oral Implantologists, and Master status with the Academy of General Dentistry. To learn more about how Dr. Marchese can expertly replace your missing teeth with dental implants, contact him at (630)-969-2310.

Comments Off

on Dental Implants Can Improve Quality of Life, Says Family Dentist in Lisle
No Comments
No comments yet.
RSS feed for comments on this post.
Sorry, the comment form is closed at this time.