July 28, 2019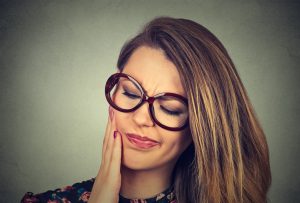 Sometimes you do everything right when it comes to taking care of your teeth, and you still have problems. Your teeth are still sensitive, and you wake up with a sore jaw ever morning. What gives? If this sounds familiar, you might be clenching or grinding your teeth while you sleep, a condition known as bruxism. How can you figure out if you're doing it? How is it treated? A family dentist in Lisle is here to answer all your questions about nighttime teeth grinding.
How Can You Tell If You're Grinding Your Teeth?
Common symptoms of bruxism include:
Waking up with pain in your teeth, jaw, or temples
Flattened, chipped, or loose teeth
Sensitive teeth
Bed partner noticing a grinding sound coming from you at night
Why Am I Grinding My Teeth?
The most common reason that people grind their teeth is because of untreated stress and anxiety. It can build up during the day and manifest as grinding or clenching at night. Some other reasons are:
Overuse of stimulants like caffeine
Family history of bruxism
Misaligned jaw
Sleep apnea
What Does Bruxism Do to My Teeth?
Untreated bruxism can wreak havoc on your mouth in several ways, such as:
Damaging the teeth
Difficulty falling or staying asleep
Damaging the inside of your cheeks or tongue
Hearing a clicking sound when you open or close your jaw, which could be a sign of TMJ disorder
Tension headaches
How Can I Prevent Teeth Grinding?
Keeping yourself from grinding at night may be as simple as learning to manage your stress levels during the day. Meditation, doing yoga, and drinking green tea have all been shown to reduce stress. You might also ask your dentist in Lisle to see if your bite needs fixing with orthodontic work. If your bite is misaligned, you might unconsciously grind in order to try and align it. Another way to protect your teeth from damage is by wearing a nightguard. This is a tray designed to fit snugly over your teeth and keep them from hurting each other due to grinding. Nightguards keep the teeth apart so the grinding doesn't even happen in the first place.
If you think you're grinding your teeth, be sure to let your dentist know right away. Otherwise, it could lead to more costly and extensive dental work later on down the road.
About the Author
Dr. Frank Marchese has been practicing dentistry in Lisle, IL since he graduated from the University of Illinois College of Dentistry more than 30 years ago. He has achieved Master status in the Academy of General Dentistry and Fellowship status in the International Congress of Oral Implantologists. For more information on how Dr. Marchese can treat your bruxism, contact him at (630)-969-2310.

Comments Off

on A Guide to Stopping Teeth Grinding from Your Family Dentist in Lisle
No Comments
No comments yet.
RSS feed for comments on this post.
Sorry, the comment form is closed at this time.