August 3, 2019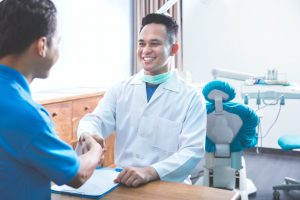 Quick question: can you remember how long it has been since your last dental appointment? Sometime last year, maybe? Even longer? Amid the hectic schedule of everyday life, routine dental checkups can sometimes fall by the wayside – especially if you are not experiencing any immediate dental pain or discomfort. In fact, over 100 million Americans skipped a routine dental visit in 2016, according to the Commonwealth Fund.
However, biannual dental appointments are a critical part of maintaining a healthy smile. If you have stayed away from the dentist's office for a while, there is no need to be nervous about coming back. Here is what to expect during a routine visit to a family dentist in Lisle.
Breaking Down a Routine Dental Checkup
Generally speaking, there are 3 main parts to each routine dental checkup with a dentist in Lisle:
Professional cleaning – Even if you diligently brush and floss every day at home, harmful plaque and tartar can build up over time in those hard-to-reach places in your mouth. Only an expert cleaning by a dental professional can remove hardened tartar from your teeth.
Dental X-rays – X-rays reveal dental problems that may be invisible to the naked eye. These days, digital X-rays produce images of your mouth faster and with significantly less radiation than older, traditional X-ray technology.
Dental exam – During every routine dental checkup, your dentist will examine your teeth and the surrounding tissues in your mouth for cavities, gum disease, early signs of oral cancer and other serious oral health issues. If any problems are detected, your dentist will discuss treatment options with you and develop a plan to take action.
How Often Should You Visit the Dentist?
The American Dental Association recommends visiting a dentist for a routine cleaning and dental exam every six months to maintain a healthy smile.
Fitting a routine dental checkup into your busy schedule is not always easy – but it is always worth it! Skipping routine dental care at the hands of a professional can negatively impact your health. Here are 3 ways how:
#1: Increased Risk of Tooth Decay – Regular professional cleanings remove plaque and tartar build-up, which can lead to tooth decay.
#2: Increased Risk of Gum Disease – The warning signs of gum disease can be very subtle. Early detection by a dentist is critical to preventing gum disease from progressing.
#3: Increased Risk of Oral Cancer Progression – Regular dental exams are key to catching oral cancer early on – when it is easiest to remove the potentially fatal disease.
There is no better time than now to jump back in the saddle and visit a family dentist in Lisle for a routine dental checkup. Pick up the phone and call today!
About the Author
Dr. Frank Marchese has over three decades of experience building relationships with patients while helping them achieve and maintain healthy smiles. A firm believer in the power of preventive dentistry, he welcomes patients of all ages – from active toddlers to retired senior citizens – at his conveniently-located Lisle office. Patients new and old can schedule their next routine dental checkup by visiting the Arbor Dental Care website or calling (630) 969-2310.

Comments Off

on Know What to Expect Before Your Next Routine Dental Visit
No Comments
No comments yet.
RSS feed for comments on this post.
Sorry, the comment form is closed at this time.