August 25, 2019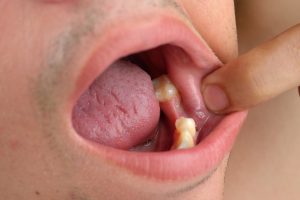 According to the American College of Prosthodontists, roughly 178 million Americans are missing at least one tooth. If you count yourself among these many millions, you may have already adjusted to life with one or more missing teeth. However, there are compelling health reasons to fill the gaps in your smile. Here are the 3 major reasons why you should partner with a family dentist in Lisle to replace your missing teeth and an overview of the restorative treatment options available.
#1: Preserve Your Oral Health
The empty space left by even just one missing tooth can lead to major dental trouble. Dental drift, when remaining healthy teeth slowly drift into the empty space left by a missing tooth, can make it more difficult to clean your teeth – which can lead to tooth decay – and negatively impact your bite. Bite irregularities can affect the health of your remaining teeth, gums, neck, and jaw joints and muscles.
#2: Protect Your Overall Health
Humans have evolved to have a full set of teeth that helps them consume the balanced diet needed to survive and thrive. Front teeth are often used to bite into hard foods like apples, for example, while molars are relied upon to grind up tough foods like meat. Missing teeth can make it more difficult to eat a wide variety of food that provides your body with the nutrients it needs.
#3: Boost Your Confidence
Missing one or more teeth can easily dent your confidence and make you less likely to speak, smile and laugh around others. A gap in your smile can even make it more difficult to pronounce certain words or cause whistling or slurring when you try to speak, leading to embarrassing social interactions.
Dental implants in Lisle and other tooth replacement solutions can not only restore your smile to its former glory but help you reclaim your lost confidence.
The Best Tooth Replacement Solutions
Modern dentistry offers a wide range of restorative dental treatments, including:
Crowns – Crowns function as protective caps that strengthen a fractured, decayed or otherwise damaged tooth. Made from porcelain, ceramics or metal alloys, crowns cover the visible portion of a damaged tooth above the gum line and can also boost the appearance, shape or alignment of an individual tooth.
Bridges – Consisting of a false tooth or teeth set between two crowns, dental bridges can replace one to three consecutive missing teeth. The two crowns sit atop healthy adjacent teeth to anchor the bridge in place.
Dentures – Crafted from hard resin on top of an acrylic base, dentures are a removable set of artificial teeth and gums that restore the appearance and function of a person's smile. They are held in place by natural suction and can replace an entire arch of teeth.
Dental Implants – A dental implant is a small titanium screw surgically inserted into the jawbone to mimic the natural tooth root structure. Over time, the implant fuses with the jawbone to provide a sturdy base for an artificial tooth, bridge or denture.
Take charge to preserve your oral, physical and mental health! Talk to a dentist today about dental implants in Lisle and other ways to restore your smile.
About the Author
Dr. Frank Marchese has over three decades of experience restoring patients' smiles. From single dental crowns to full mouth reconstruction, Dr. Marchese offers a wide range of restorative services at his conveniently-located Lisle office. Patients who want to reclaim a strong and healthy smile can get started by visiting the Arbor Dental Care website or calling (630) 969-2310.

Comments Off

on Top 3 Reasons You Should Replace Missing Teeth
No Comments
No comments yet.
RSS feed for comments on this post.
Sorry, the comment form is closed at this time.