September 17, 2019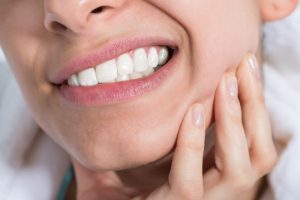 Is pain in your pearly whites stopping you from enjoying a big bowl of ice cream or a steaming cup of coffee? When teeth become sensitive, it becomes more difficult to enjoy life to the fullest. While this sensitivity is sometimes a sign of a serious condition like gum disease, it might also just be the result of bad habits or unfortunate genetics. In those cases, it might be able to treat the discomfort at home. If you're frequently dealing with tooth pain, try these 3 tips from your family dentist in Lisle.
1. Get a New Toothbrush and Different Toothpaste
What kind of toothbrush are you using? If it has hard bristles, it could be wearing away at your enamel and increasing sensitivity. There's no need to be hard on your ivories; a soft-bristled toothbrush will do just as good a job of getting rid of plaque without causing any unnecessary damage.
Likewise, double-check the ingredients in your toothpaste. Some brands – such as those made for whitening teeth – are more abrasive than others. Ask your dentist what kind of toothpaste they recommend, and don't forget to use a gentle back-and-forth motion while brushing.
2. Avoid Acidic Foods and Beverages
Some of the things you eat and drink are harder on your teeth than others. Acidic foods and drinks – such as soda, citrus fruits, coffee and yogurt – can wear away enamel. They can also irritate an already sensitive tooth. In general, it's best to avoid them altogether. If you do continue to enjoy a daily coffee or the occasional soda, try drinking the beverage through a straw; that way you'll limit how much of it touches your teeth.
In the event that you do eat or drink something acidic, wait at least 30 minutes before brushing your teeth. The acid softens your enamel, so if you brush them too soon you could make your sensitivity worse. In the meantime, a glass of milk can help you neutralize the effects of the acid.
3. Get a Mouthguard to Stop Tooth Grinding
You might be grinding your teeth at night without realizing it, which can make your teeth sensitive and sore. A mouthguard will help protect your enamel. You can get one at the store, but the ones provided by your dentist will be customized for your mouth, making them far more comfortable and effective.
Keep in mind that sometimes sensitive teeth are just a side effect of a cavity or another oral healthy problem. If you're suddenly noticing pain while eating hot or cold foods or while brushing, call your emergency dentist in Lisle to figure out the underlying cause. Not only will they help you solve the larger problem, but they can also suggest ways of dealing with the pain in your teeth. There's no reason why you should have to live with a sensitive smile!
About the Dentist
Dr. Frank Marchese has been transforming smiles for over 30 years and always stays on top of the latest dental technologies – such as digital x-rays and diode lasers – so that he can provide accurate diagnoses and precise, comfortable treatment. He's had plenty of experience treating cavities, gum disease, and other sources of sensitive teeth. To schedule an appointment at his practice, Arbor Dental Care, visit his website or call (630) 969-2310.

Comments Off

on Sensitive Teeth? Here's 3 Ways You Can Relieve the Pain at Home
No Comments
No comments yet.
RSS feed for comments on this post.
Sorry, the comment form is closed at this time.