October 20, 2019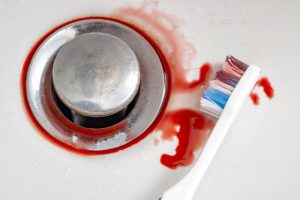 Healthy gums don't bleed, and this problem is often a sign of oral issues that may be getting worse the longer you leave them unaddressed. However, there are several reasons this could occur, some of them needing intervention from a family dentist in Lisle, and others you may just need to adjust your oral hygiene routine to solve the issue. Either way, it's important not to ignore bleeding, swollen, or irritated gums. Read on to learn about what could be causing your issue and when to visit your dentist for help.
Common Causes of Bleeding Gums
While bleeding gums are one of the most common symptoms of early-stage gum disease, they can also be a sign of other problems. If you notice that your gums appear irritated or start to bleed often, it could be a sign of these issues:
Gum Disease – Whether it's early (gingivitis) or late-stage (periodontitis) gum disease, bleeding gums are a common sign that plaque has stayed too long on your gum line. That could be a result of not brushing or flossing properly. Once it hardens and turns into tartar, it could cause even more bleeding.
Vitamin Deficiencies – If you're not getting enough vitamin C or vitamin K, it could cause your gums to bleed easily. Be sure to eat more foods that contain these nutrients, like broccoli, tomatoes, potatoes, spinach, and olive oil.
Brushing Too Aggressively – When you brush your teeth with too much force, it can be damaging to your gums, causing them to recede away from your teeth and bleed.
Symptoms of Gum Disease
If your bleeding gums are a result of gingivitis or periodontitis, it's important to be able to spot other symptoms that often occur alongside this one. That way, you can seek immediate treatment from your dentist in Lisle and take care of the issue before it has a chance to become more severe, causing additional damage. Other signs of this common oral health problem include:
Red, swollen, or tender gums.
Pain or discomfort while brushing.
Oral sores.
Chronic bad breath.
Pockets of pus between your gums and teeth.
Treating Bleeding Gums
If your bleeding gums are a result of a bacterial infection, it's important to be evaluated and treated by your dentist. They will develop a customized dental regimen and treatment plan to counteract the symptoms and restore your oral health. Otherwise, here's what you can do at home to prevent and ease your bleeding gums:
Switch to a soft-bristled toothbrush.
Brush after each meal and before you go to bed.
Use a gentle, sensitive fluoride toothpaste.
Floss at least twice a day using a water flosser or traditional dental floss.
Rinse with antibacterial mouthwash. If ones containing alcohol irritate your oral tissues, switch to one that doesn't have alcohol in it.
See your dentist every six months for checkups and cleanings.
Some people believe that bleeding gums are a common occurrence and wait for the issue to go away. However, when it's caused by oral health problems like gum disease, it will only get worse the longer it's left untreated. To ease your worries and make sure your mouth is in tip-top health, it's best to visit your dentist as soon as you notice anything out of the ordinary.
About the Author
Dr. Jeanelle Marchese wants to provide comfortable and effective dental care to each of her patients and build lasting relationships with them. She believes that the key to thorough and high-quality treatment is taking the time to listen to her patients' concerns and learning about the desires they have for their smiles. She enjoys working with patients of all ages and providing them with preventive and comprehensive care they need to keep their teeth and gums healthy. For questions or to schedule a routine checkup and cleaning, visit Arbor Dental Care's website or call 630-969-2310.

Comments Off

on What Causes Bleeding Gums?
No Comments
No comments yet.
RSS feed for comments on this post.
Sorry, the comment form is closed at this time.