December 8, 2019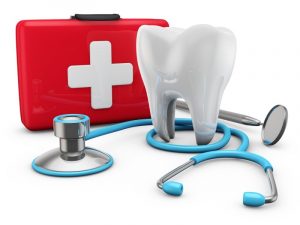 With all the scheduling, shopping, and traveling that needs to be done during the holidays, the last thing you want is to drop everything to deal with an emergency. Unfortunately, toothaches, broken teeth, and other types of dental damage rarely pick a convenient time to strike. Below are 7 common holiday dental emergencies – and more importantly, what you can do to make sure they're taken care of as quickly as possible!
1. Toothaches
A toothache can have many different causes, but if it lasts for more than a couple of days, chances are it's a sign of infection or another severe oral health problem. Call your emergency dentist as soon as possible, and use ibuprofen or another over-the-counter painkiller to manage your pain until your appointment.
2. Infection/Abscess
When a tooth infection reaches its advanced stages, it can form a pocket of pus at the root of the tooth called an abscess. At this point, the infection could damage the tissue around the tooth and might spread to the rest of your body; seeing the dentist right away is crucial for saving your tooth and protecting your health. In the meantime, rinsing with a salt water solution can help ease your pain and draw the pus to the surface.
3. Chipped/Broken Teeth
Use a piece of gauze to stop any bleeding and apply a cold compress to reduce the swelling. Broken teeth don't always hurt, but they need to be examined right away so that your dentist can confirm the extent of the damage. Only eat soft foods before your appointment and avoid chewing with the damaged tooth.
4. Lost Filling
The tooth will probably be sensitive, so try and fill the hole with orthodontic wax. The wax will also come in handy if your tooth has any sharp edges that could irritate the tongue or the inside of your cheeks. Keep in mind that the wax isn't a permanent solution; your dentist will need to place new fillings.
5. Lost Crown
Save the crown if you can. Until your dentist can permanently reattach it, you can try to use toothpaste or dental cement to keep it in place on your tooth.
6. Partially Dislodged Tooth
If a tooth has been knocked loose but is still in the mouth, call your dentist right away so that it can be saved. Use pain relievers and cold compresses to reduce your discomfort in the meantime. Do not touch or bite down on the affected tooth.
7. Knocked Out Tooth
Try to see your dentist within the hour. Ideally, you should put the tooth back in its socket until you can get to the practice (taking care to avoid touching the root), but if that's not possible, put it in a glass of milk to preserve it.
Keep your dentist's phone number handy at all times, and be ready to make the call at a moment's notice – even if you're in the middle of a holiday celebration. With swift, decisive action, you can give your teeth the best chance of surviving into the new year!
About the Author
Dr. Frank Marchese has undergone over 1500 hours of advanced dental training so that he can incorporate the latest innovations in dentistry into his practice in Lisle. He is an expert in performing complex restorative dental care to repair damaged teeth, and in the event of an emergency he'll make every effort to see you as soon as possible. To schedule an appointment at his practice, Arbor Dental Care, visit his website or call (630) 969-2310.

Comments Off

on 7 Common Dental Emergencies That Can Disrupt the Holiday Season
No Comments
No comments yet.
RSS feed for comments on this post.
Sorry, the comment form is closed at this time.