January 2, 2020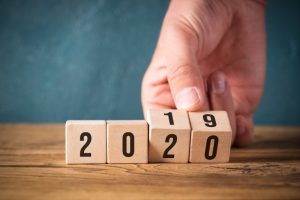 It's a brand-new year, which means it's time to think about what your resolution will be and how you plan to better yourself. Maybe you want to hit the gym a few times a week. Perhaps you want to read a book a month. What about your oral health goals for the new year? Your dentist has some ideas for a few healthy dental habits to implement in 2020.
Quit Smoking
According to the Centers for Disease Control and Prevention, people who smoke are twice as likely as nonsmokers to develop gum disease. The habit is also linked to a whole host of other health issues, both oral and general. Pick a day where you're going to quit the habit, and tell all your friends and family so they can hold you accountable and help you through your potential struggle.
Eat a Mouth-Healthy Diet
Add plenty of dairy products like cheese and milk to your diet. They are chock full of calcium, which strengthens your teeth. Make sure to eat enough fruits and vegetables too. Their fibrous skins naturally scrub away plaque and leftover bits of food as well as summon saliva to rinse out your mouth.
Cut Back on Sugar
When you consume sugary foods and beverages, bacteria break down those sugars into a destructive waste product that erodes your enamel and forms cavities. To combat this, reduce the number of sugary treats you buy. Swap soda for sugar-free seltzer water, and when you're craving something sweet, chew a piece of sugarless gum instead.
Floss Every Day
Brushing alone isn't enough to clean plaque from all the surfaces of your teeth. Flossing is the only way to remove bits of food and bacteria from between your teeth. It's a good idea to place your floss either next to your toothbrush or on your bed or pillow. That way you can't go to sleep without being reminded to floss.
Book a Dental Appointment
The vast majority of Americans don't attend their regular dental cleanings as often as they should, which is twice a year. Call your dentist and schedule an appointment as soon as they open after New Year's. Your teeth are guaranteed to feel nice and clean afterward!
Whether you choose to stick to one or all of these resolutions, take it one day at a time. Remember that if you forget to floss one day or eat some cookies the next, it's not the end of the world. Just get back on track the next day!
About the Author
Dr. Frank Marchese is a graduate of the University of Illinois' College of Dentistry. In his 30 years of practicing dentistry, he has received more than 1500 hours of advanced dental training. He has achieved a Mastership in the Academy of General Dentistry and a Fellowship in the International Congress of Oral Implantologists. To schedule your next dental cleaning, you can contact Dr. Marchese's Lisle, IL practice at (630) 969-2310.

Comments Off

on 5 Healthy Dental Habits for the New Year
No Comments
No comments yet.
RSS feed for comments on this post.
Sorry, the comment form is closed at this time.