January 27, 2020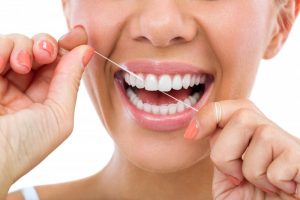 You're having the best first date of your life so far. The movie was entertaining, dinner was delicious, and the conversation was interesting. You're dropping your date off at their place and, to top off a wonderful evening, you lean in for a kiss. Your date catches one whiff of your breath and flinches, then runs inside. You remember hearing something about flossing stopping bad breath, but should you bother? Read this post to find out.
What Causes Bad Breath?
Bad breath, also known as halitosis, can have multiple different causes, such as:
Dry mouth. When you don't have enough saliva, leftover food particles don't get washed out. Bacteria then feast on these particles and leave behind a foul-smelling waste product.
Poor oral hygiene. If you don't clean your mouth out after eating, bits of food get left behind.
Gum disease. Constant halitosis that doesn't subside with improved oral hygiene may be a sign of gum disease.
Tobacco use. Smoking and chewing tobacco leave a distinct odor in your mouth.
Certain foods, like garlic and onions, leave behind an awful smell in your mouth.
Can Flossing Help?
Yes, flossing more than helps fight bad breath. Daily flossing removes bacteria and bits of food from between your teeth that cause halitosis when allowed to linger. It works especially well when coupled with brushing your teeth and rinsing with antibacterial mouthwash.
Other ways to combat bad breath include quitting tobacco and brushing your tongue as well as the roof of your mouth every day. Bacteria love to build up in those areas.
How to Floss Effectively
Studies have shown that flossing isn't very effective unless you know how to do it correctly. That's why we're going to show you step by step who you should do it:
Break off a piece of floss about 18 inches long, winding most of it around the middle fingers of both hands.
Tightly hold the floss between your index fingers and thumbs.
Using a gentle rubbing motion, guide the floss between your teeth.
When the floss reaches the gumline, curve it into a C shape against one tooth. Slide it gently into the space between tooth and gum.
Hold the floss tightly against the tooth. Rub the side of the tooth, moving the floss away from the gum in an up and down motion.
Repeat these steps on the rest of your teeth, including behind your last molars.
Yes, flossing can keep bad breath at bay, but make sure to do it correctly and daily!
About the Author
Dr. Frank Marchese is a dentist in Lisle, IL who earned his doctorate from the University of Illinois' College of Dentistry. He is also an alumnus of the prestigious Pankey Institute for Advanced Dental Education. In addition, he has achieved Mastership status with the Academy of General Dentistry and a Fellowship with the International Congress of Oral Implantologists. If you have bad breath that just doesn't seem to go away, click here to visit Dr. Marchese's website.

Comments Off

on Does Flossing Prevent Bad Breath?
No Comments
No comments yet.
RSS feed for comments on this post.
Sorry, the comment form is closed at this time.