March 22, 2020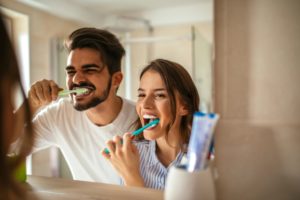 Your oral hygiene habits at home are incredibly important. They keep your smile healthy and also prevent painful toothaches and other problems. And that means less chance of seeing a dentist for unexpected dental work, which is especially important during COVID-19! Your oral hygiene routine can also lower your chance of getting COVID-19, which makes sense when you realize that the mouth is one of the main entry points for the virus. In this blog, you'll read about 5 ways to lower your risk with better at-home dental habits. Learn more below!
1. Wash Your Hands Before You Brush and Floss
It's easy to forget to wash your hands before brushing and flossing, but doing so will prevent you from inadvertently transferring the virus to your toothbrush and floss or your mouth itself.
Make sure to use good technique by washing for at least 20 seconds with plain soap and water and rubbing your fingertips, nails, the front and back of your hands, and in between your fingers.
2. Disinfect Your Toothbrush
Disinfecting your toothbrush once a week can definitely be helpful right now. You can do this by soaking both the handle and bristles in 70% rubbing alcohol or a solution of 1 part household bleach to 9 parts water for 15 minutes. Then just rinse it thoroughly under tap water before using again.
It's also a good idea to rinse your toothbrush in hot water after each time you brush to potentially rinse away any viruses or bacteria.
3. Keep Your Bathroom Clean
Take a few minutes each day to disinfect the frequently touched surfaces in your bathroom like your toothbrush holder, doorknobs and drawer handles, light switches, counters, toilet handle, and faucets.
4. Don't Share Oral Hygiene Supplies
Your dentist would never recommend sharing a toothbrush, but that's even more important during COVID-19. It's also a good idea for everyone in your household to have their own container of toothpaste and floss. If one person has the virus, they'll be less likely to spread it.
5. Disinfect Your Dentures
It's always important to keep your dentures clean each day by soaking and brushing them. During COVID-19, you can take it a step further by disinfecting them as well. Start by washing your hands and cleaning your dentures as usual. Then soak them in 8 ounces of water mixed with 1 teaspoon bleach. However, don't allow them to soak for more than a minute because it can turn the gum-colored base white. Then finish by thoroughly rinsing them in warm (not hot) water.
Right now, we're all doing what we can to keep ourselves and our loved ones healthy. With these 5 simple tips for your oral hygiene routine, you'll keep your smile in great shape and lower your chance of getting COVID-19 at the same time.
About the Author
As a family dentist with more than 30 years of experience, Dr. Frank Marchese is committed to his patients' dental health and overall well-being. His office is always open for emergency care, and he's happy to provide any information that can prevent the spread of COVID-19. If you have any questions or want to know more about the best at-home dental habits, he can be reached via his website.

Comments Off

on Dentist Discusses At-Home Dental Habits That Lower Your Risk of COVID-19
No Comments
No comments yet.
RSS feed for comments on this post.
Sorry, the comment form is closed at this time.