April 20, 2020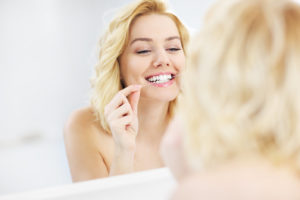 When COVID-19 began to spread, businesses had to think about how they could operate while still keeping people safe. Guidelines provided by the CDC and state dental associations convinced many dentists to limit their operations to emergency treatment to prevent the spread of the virus. As a result, you may currently be unable to visit your dentist for your regular cleaning appointments. But don't worry! There are still many things you can do at home to maintain your oral health. Read on to find out some simple tips that you can add to your daily oral hygiene routine to keep your teeth healthy.
1. Brush And Floss After Each Meal
If you're only brushing your teeth at the start or end of each day, you may not be doing enough to truly protect yourself from oral health problems. Food can easily get trapped between your teeth during meals. When it's not removed, it can provide bacteria with the energy they need to cause tooth decay throughout the day. Try brushing and flossing after each meal to remove the food particles that get left behind.
2. Use Proper Technique
Correct technique is necessary if you want your dental care habits to have the intended effect. When it comes to brushing, use a soft bristled toothbrush. Clean your teeth with soft strokes that are at a 45-degree angle to your gums, and be sure to all the surfaces of your teeth. For flossing, you should a piece of floss that's about 18" inches long to clean your entire mouth. The floss should move back and forth between your teeth, moving against the side of each tooth and down into the space by the gums.
3. Clean Your Tongue
The bacteria in your mouth don't just live on your teeth, they live on your tongue too. If they're not removed, they can cause bad breath. To clean your tongue, gently brush it from back to front until the white buildup on it has been completely removed.
4. Rinse With Mouthwash
Bacteria can sometimes accumulate in areas that are hard to reach in your mouth. Using antiseptic mouthwash can help get rid of them and leave your mouth feeling fresher. There are also many kinds of mouthwash available. Some are designed to treat specific problems. For example, certain ones have fluoride added to them to help rebuild damaged teeth.
5. Stick To Healthy Snacks
Everyone tends to get hungry during the day, but snacking on foods that are high in sugar and acids can weaken your enamel over time. If you have to snack, try eating fresh vegetables, dairy products, or unsweetened nuts. They are low in sugar and can provide you with vital minerals to help repair weakened enamel.
During this temporary pause in preventive dental care visits, you don't need to be worried about the collapse of your oral health. Building a daily oral hygiene routine around these tips will keep your teeth safe and healthy now and in the future when it's time to return to the dentist.
About the Author
Dr. Jeanelle "Nellie" Marchese grew up in Lisle and is proud to provide the people of her hometown with dental care. She earned her dental degree from Midwestern University and takes continuing education courses annually to keep her knowledge up to date. She believes in providing patients with the information they need to keep their smiles healthy while they are away from her office. If you're worried about the health of your teeth or think you may need emergency assistance, you can reach her through her website or at 630-969-2310.

Comments Off

on How To Keep Your Mouth Healthy When You Can't Visit The Dentist
No Comments
No comments yet.
RSS feed for comments on this post.
Sorry, the comment form is closed at this time.