May 7, 2020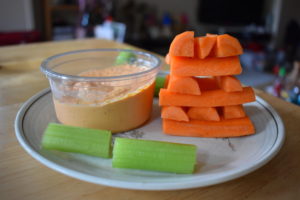 During shelter-in-place, the health of your teeth can decline without you noticing. The additional time spent at home means it's easier to grab a quick snack during the day. Combined with the fact that most dental offices are no longer open for preventive visits, it's the perfect situation for problems to develop in your mouth. In addition to keeping a regular dental hygiene routine, paying attention to the foods you consume can make a big impact on your oral health. In this article, you'll find out what foods to eat to avoid dental emergencies.
1. Dairy Products
Cheese, milk, and unsweetened yogurt have the power to protect and rebuild your teeth. They help stimulate the production of saliva in your mouth, which makes it harder for plaque to accumulate. They also contain minerals that can help rebuild the protective enamel layer on your teeth.
2. Fresh Fruits and Vegetables
In addition to being low in processed sugars, fresh fruits and vegetables can keep your gums clean by clearing out bits of food trapped in hard to reach areas of your mouth. Carrot and celery sticks make great vegetable snacks during the day. When looking for a fresh fruit snack, try avoiding citrus fruits, as the acids they contain can wear down your teeth over time.
3. Plain Nuts
Nuts without sweet coatings like cashews, peanuts, and almonds are good for you. They contain many vitamins and minerals that can strengthen your teeth.
4. Tea
Green and black teas contain substances known as polyphenols. They can limit the growth of plaque causing bacteria in your mouth.
5. Sugar Free Gum
Sugar free gum is a good food to chew on during the day between meals. It makes your mouth produce saliva and keeps your breath fresh without the harmful sugars that regular gum contains.
6. Water
Staying hydrated is key to maintaining your oral health. When you drink water between meals, you're washing away small pieces of food that might be left behind after a meal, making it harder for bacteria to cause tooth decay. You're also promoting the production of saliva and preventing bad breath. Additionally, drinking tap water can actually help rebuild your teeth. In many cities, tap water contains a mineral known as fluoride, which bonds with the outer layer of teeth and fortifies them.
Foods You Should Avoid
There are some foods that you should try and limit in your diet to prevent a dental emergency. Foods that are sticky, full of sugar, or acidic have the power to weaken your teeth relatively quickly. These include:
White bread
Potato chips
Sticky or sour candy
Soda
Dried fruits
Snacking is inevitable, but that doesn't mean poor dental health has to be as well. Including foods that are good for your teeth in your diet will help stop hunger and reduce your risk of needing emergency dental care.
About the Author
Dr. Frank Marchese is a graduate of the L.D. Pankey Institute for Advanced Dental Education and has attended courses at the Misch International Implant Institute. He believes continuing education is vital to providing patients with the most effective dental care for their emergencies. If you need urgent dental care, you can reach him through his website or at 630-969-2310.

Comments Off

on Here's What To Eat To Avoid Dental Emergencies
No Comments
No comments yet.
RSS feed for comments on this post.
Sorry, the comment form is closed at this time.