September 23, 2020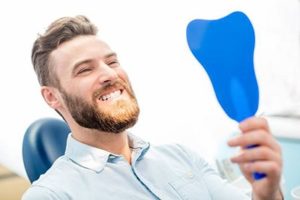 If you split a tooth in half, you would see three layers within it. The hard-outer layer you see in the mirror is your enamel. It is the strongest tissue in the body, even harder than bone. This allows it to provide a shield of protection for the softer dentin that lies below it. The dentin contains tiny tubes that connect to the nerve center of the tooth, called the pulp. Unfortunately, your enamel will suffer daily wear and tear. While it may not seem concerning at first, enamel erosion can put your smile at risk of several oral health issues, like a broken tooth. Thankfully, your dentist in Lisle can help preserve your smile. Here's how they can turn back the hands of time to ensure your teeth stay strong.
What Causes Enamel Loss?
Enamel erosion is unavoidable as your teeth are attacked by harmful sugars and acids daily; however, there are factors that can speed the process, such as aggressive brushing habits, grinding or clenching your teeth, or an unhealthy diet. No matter the cause, enamel loss leaves your teeth vulnerable to decay, tooth sensitivity, and even breaks or fractures.
What are Signs of Enamel Erosion?
Enamel loss is a gradual process. It won't happen overnight, so you may not notice any signs until serious erosion has occurred. As your enamel thins, your teeth look darker than before. This is caused by your yellowish dentin being visible through your enamel. You might also notice your teeth are sensitive to hot or cold temperatures, such as when drinking coffee or eating a bowl of ice cream. Over time, you may even see small cracks or breaks. Although they might seem like minor issues, they must be addressed by your dentist right away, or you can suffer significant damage to your smile.
How is Enamel Erosion Treated?
There isn't a specific procedure to treat enamel erosion because the appropriate solution varies depending on the extent of the damage. Your dentist will perform a thorough consultation and may recommend one or more treatments, such as:
Fluoride Varnish: A fluoride varnish is painted on the teeth to promote remineralization.
Nightguard: Provides a cushion between the upper and lower teeth to reduce the friction of grinding and clenching.
Crown: Provides an added layer of protection for a weakened tooth.
How Can I Prevent Enamel Loss?
You can help prevent enamel erosion by maintaining your oral hygiene at home and visiting your dentist regularly. It's also best to consume a healthy diet that's limited in sugars and starches. Be sure to have any underlying oral health issues treated promptly, like bruxism. You can ensure enamel loss doesn't leave a lasting mark on your smile using a proactive approach.
About Dr. Frank Marchese
Dr. Frank Marchese has over 30 years of experience in dentistry. He remains current with the latest technologies, techniques, and products to deliver modern services. He has expertise in complex restorative dental care to rehabilitate smiles damaged by enamel erosions. If you have signs of enamel loss, don't wait. Contact our office today for an appointment.
Comments Off

on Is Enamel Loss a Big Deal?
No Comments
No comments yet.
RSS feed for comments on this post.
Sorry, the comment form is closed at this time.