October 13, 2020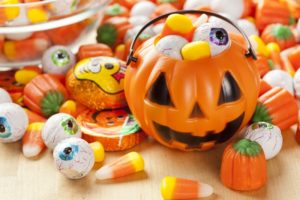 It's common knowledge that eating too much sugary candy can lead to a mouth full of cavities. However, not all candy is equally damaging! With Halloween just around the corner, it's more important than ever to know how to practically protect your oral health while indulging in the festivities. Some popular treats are gentler on your smile, while others should be enjoyed sparingly to protect your teeth and gums. Read on as your Lisle dentist reveals the best and worst Halloween candy for your pearly whites.
The Safest Treats for Your Teeth
While the best type of candy for your oral health is no candy, avoiding sweets altogether is a somewhat unreasonable goal for most of us this time of year. Thankfully, you can minimize damage to your teeth by choosing safer snacks for your smile this Halloween, like:
Candy bars with nuts: Nuts in candy bars break up sticky consistency, which helps keep sugar from lingering on teeth for very long.
Soft candies: Peppermint patties, peanut butter cups, and other soft candies don't put as much pressure on your teeth and dissolve quickly.
Sugarless gum: Gum that's been sweetened with Xylitolis sugarless and increases saliva production, which both lower your risk of tooth decay.
Scary Sugary Snacks to Avoid
There's nothing more frightful during Halloween than a trip to your emergency dentist! Some candies dramatically increase your risk of broken teeth, worn enamel, and tooth decay, such as:
Hard candy: Suckers, Jolly Ranchers, butterscotch candies, and other hard sweets stay in your mouth for a long time, soaking your teeth with sugar. They also wear down the enamel—chomping down too hard on one could potentially chip or crack a tooth!
Sticky candy: Chewy, sticky candies like gummy worms, taffy, tootsie rolls, and others cling to teeth and are difficult to clean off. They can also tug at and loosen dental work like fillings and crowns.
Sour candy: Lemon Heads, Sour Patch Kids, Warheads, and other sour candies are notoriously acidic, which burns through your enamel and weakens your teeth. Eating too many of these treats can dramatically boost your risk of tooth sensitivity, damage, and decay.
Is Chocolate Good or Bad for Your Smile?
Chocolate is one of the most popular treats of the season, so how does it impact your oral health? Thankfully, while your dentist would never encourage you to eat chocolate to maintain a healthy smile, this tasty sweet is a relatively safe choice for your teeth. Most chocolate candies are soft and they all melt quickly, which makes them less destructive. Dark chocolate is the best option because it contains less sugar than other variants and more compounds that have a positive impact on the body.
Keep cavities from knocking on your door this Halloween by remembering which candies are good and bad for your teeth. Remember to keep practicing great oral hygiene and visiting your dentist twice a year to keep your smile healthy all season long!
About the Practice
The talented team of Arbor Dental Care has been helping the smiles of Lisle, IL and the surrounding communities for over 30 years. They strive to help patients of all ages achieve optimal oral health and maintain it throughout life's seasons. With state-of-the-art technology and excellent preventive care, they aim to stop oral health problems before they have a chance to develop. To learn more about protecting your smile this Halloween, they can be reached via their website or at (630) 969-2310.
Comments Off

on The Best & Worst Halloween Candy for Your Smile
No Comments
No comments yet.
RSS feed for comments on this post.
Sorry, the comment form is closed at this time.