June 7, 2021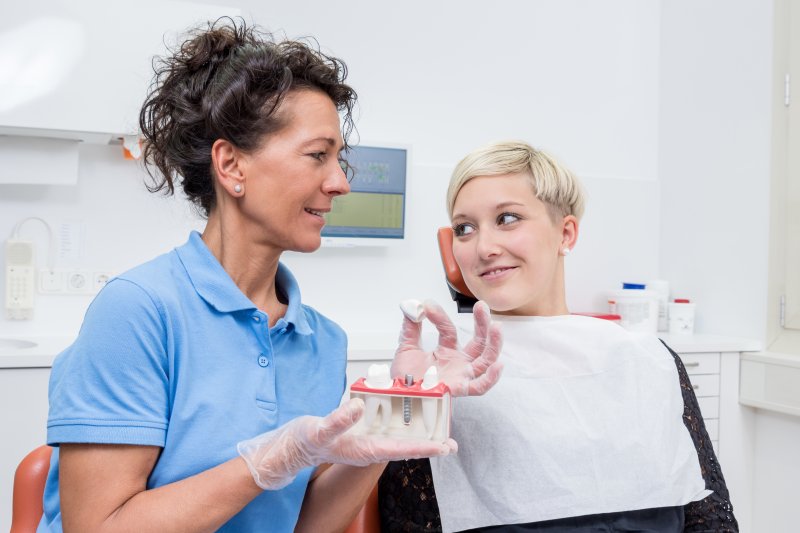 Dental implants are a complex treatment in the sense that they can be highly personalized to meet the specific needs of the individual. Because of their versatility, they are more than capable of replacing any number of teeth, even in patients who have been missing teeth for a long time. However, this also means that the cost is not typically so obvious. According to an implant dentist, dental implant cost is largely determined by these factors. Keep reading to learn what they are!
The Number of Teeth Being Replaced
Generally speaking, the more teeth you need to replace, the more dental implants will need to be provided and fuse with the jaw to hold a restoration. Not only does this increase the length of surgery, but it also means dentists need to spend more money on materials. Additionally, more complex restorations are typically needed, such as an implant bridge or denture over a single restoration. With that said, needing to replace more teeth does not necessarily mean an implant is needed for each missing tooth. For example, implant bridges are generally held by a pair of implants, despite being able to replace as many as four teeth at a time.
Preparatory Treatments
More people are eligible to receive dental implants than ever thanks to advancement in dental technology and treatments. However, the cost of being able to have dental implants placed can be higher depending on the condition of your jawbone. For example, diminished bone tissue can make it more difficult for dental implants to fuse. This could require a bone graft to be performed ahead of implant surgery. Other treatments could be needed as well, such as sinus lifts (which are common for implants being placed in the upper arch) and tooth extractions (which may be done if an implant denture is recommended). Furthermore, if you have poor oral health need either periodontal (gum) therapy or treatment to remove tooth decay, this adds to your total oral healthcare costs.
Where the Teeth are Located
Dental implants were initially invented as a way to replace the molars, the teeth that most frequently extracted. This is because molars are generally at higher risk of decay and damage from teeth grinding and clenching. The good news is dental implants can be used to replace any teeth, regardless of where they are located. However, this will influence their cost. For example, front teeth are much more difficult to replace due to the angle at which they sit inside the jawbone, making treatment more expensive.
The best way to learn the cost of dental implants is to visit a dentist and discuss your needs with them directly. While they may be more expensive than other solutions, they are still incredibly cost-effective thanks to their longevity and functionality, especially compared to traditional bridges and dentures. Get in touch with a dentist today to start your tooth replacement journey!
About Arbor Dental Care
The skilled father and daughter team of Arbor Dental Care has been serving patients exceptional dental services to the community for many years, including the placement and restoration of dental implants. Dr. Marchese holds advanced training in complex restorative dental care and is currently a fellow in the International Congress of Oral Implantologists. To schedule an implant consultation with their office, you can contact them through their website.
Comments Off

on Dental Implant Cost: The Most Important Factors to Know
No Comments
No comments yet.
RSS feed for comments on this post.
Sorry, the comment form is closed at this time.