July 31, 2021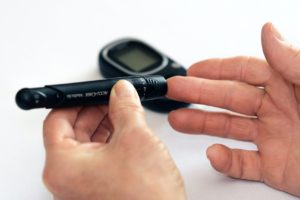 A dental implant is unlike any other treatment for tooth loss because it replicates both the root and crown. As a result, it creates a nearly perfect recreation of your natural smile. Not to mention, they are proven to last for decades for the right candidates. Generally, good oral and general health are all that is needed to benefit from dental implants, but what about diabetics? Yes! Believe it or not, even patients with diabetes are candidates for dental implants; however, your dentist will take a few precautions. Here's what you need to know to ensure your new smile lasts.
Dental Implants and Diabetes
Contrary to what you might have heard, dental implants are safe for diabetics. In fact, they are often safer than traditional dentures because there's a reduced risk of inflammation, irritation, and infections. Since diabetes lower's your body's ability to heal and fight infections, complications caused by full dentures can lead to periodontal disease, which can be difficult to treat. Dental implants resolve the risk because your denture is secured to your jawbone to eliminate any slipping or irritation that might lead to an infection or swelling.
Although diabetes can affect your body's immune system, research shows the condition doesn't raise the risk of implant failure with special pre- and post-implant care. Therefore, you'll require a thorough consultation with your implant dentist to look for any potential risk factors, like bone loss or infection. Any issues will need to be resolved prior to your placement surgery, like bone grafting or periodontal therapy. Once a healthy smile has been restored, you can safely move forward with getting dental implants.
With a heightened risk of infection, oral hygiene is crucial to ensuring your dental implants thrive for years. A commitment to your oral hygiene at home and routine care from your dentist will keep harmful infections at bay to preserve your investment.
Are Dental Implants Safe for Diabetics?
Dental implants are the most successful and reliable option to treat tooth loss, even for diabetics. According to a 2016 systemic review on dental implants and diabetes, researchers found, "When diabetes is under well control, implant procedures are safe and predictable with a complication rate similar to that of healthy patients."
Your dentist will consider several factors when determining if you're a candidate for dental implants, such as which type of diabetes you've been diagnosed with. Type 1 can be more difficult to control, so the risks and failure rates are slightly higher than for patients with type 2 diabetes.
Don't let your diabetes stand in your way of enjoying a complete smile. Contact your implant dentist today to see if dental implants are safe for you.
About Dr. Jeanelle "Nellie" Marchese
Dr. Nellie earned her dental degree from the Midwestern University in Downers Grove before continuing her training in advanced procedures, like implant dentistry. She strives for excellence when creating healthy, beautiful smiles using safe and proven treatments. If you're interested in dental implants, contact our office today to schedule your consultation.
Comments Off

on Get the Facts about Dental Implants and Diabetes
No Comments
No comments yet.
RSS feed for comments on this post.
Sorry, the comment form is closed at this time.