August 22, 2021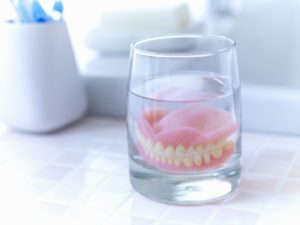 It's been a long day, and you're ready to "hit the hay" so you can get a good night's sleep. There's only one problem – you haven't removed your dentures to soak them. Is it really a big deal, though? A local dentist says skipping this vital part of your denture maintenance could spell trouble. Continue reading to find out why soaking dentures nightly is an absolute must!
Dentures are Porous
Most dentures are made from acrylic and have tiny pores. Bacteria, which love to find tight, hidden spaces, can become embedded in the pores. Before you know it, there can be millions of bacteria growing inside your denture base that could eventually contribute to gum disease. Soaking your dentures nightly will help to control the bacteria growth and protect the soft tissue inside your mouth.
Bacteria Growth Increases as You Get Older
As you age, the bacteria population inside your mouth naturally increases. This can partially be attributed to a decrease in antibacterial saliva production. While this is a typical result of aging, taking certain medications can also contribute to a dryer mouth. Thus, without proper dental hygiene and denture care, there's a greater risk of developing gum disease and suffering from gum recession and jawbone loss.
Gums Need a Rest
Wearing dentures for hours places stress on your gums. Because of that, it's not uncommon for there to be some gum soreness by the end of the day. In addition to helping to control bacteria growth, removing your dentures at night gives your gums a rest and provides you with some relief.
Soaking is the Best Way to Clean Dentures
Brushing your dentures can't penetrate into the pores that house countless bacteria. However, soaking them nightly is much more effective, as it removes over 99.9% of oral bacteria. That results in a healthier, odor-free and more functional mouth.
Other Ways to Protect Your Dentures
In addition to following a nightly denture maintenance schedule, it's of the utmost importance to do the following:
Remove and rinse your dentures after eating.
Visit your dentist every six months for cleanings and checkups.
Brush your dentures at least once a day using a toothbrush with soft bristles.
With the right care, a set of dentures can last up to 10 years. That means you can enjoy your life to the fullest and without any interruptions or inconveniences!
About the Author
Dr. Frank Marchese earned his dental degree from the University of Illinois College of Dentistry. Throughout his 30-year career, he has stayed abreast of the rapid changes in dentistry by annually attending a host of conferences, meetings and seminars in advanced dental training. A Master in the Academy of General Dentistry and member of several other professional organizations, Dr. Marchese restores his patients' smiles with dentures at Arbor Dental Care. He can be reached for more information or to schedule a visit through his website.
Comments Off

on Why Not Soaking Your Dentures at Night is a Big Mistake
No Comments
No comments yet.
RSS feed for comments on this post.
Sorry, the comment form is closed at this time.