August 27, 2021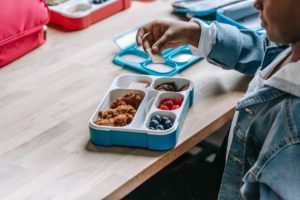 Children across the country are getting ready to head back to the classroom. Their bodies must be nourished to support their academic success, but that's not the only reason a good diet is important. You don't want their lunches creating a problem that might compromise their smile or their time in the classroom. Here's what you need to know to ensure your child's school lunches support a healthy mouth, body, and mind.
Are School Lunches Bad for Teeth?
Over the last 10 years, school lunches have been a topic of discussion because of the ongoing debate about childhood nutrition. Several changes have been made to school districts throughout the country to provide more nutritious meals. In general, the foods provided have become healthier, but are they negatively affecting your child's teeth?
Many families turn to school lunches because they are convenient, and they offer healthy food selections. Unfortunately, while they might be a staple in your child's diet, common things found on their lunch tray can harm their smile, such as:
Chocolate Milk
Milk is vital for strong teeth and bones, but many children don't like plain varieties. As a result, 99.1% of schools give out chocolate milk to provide a source of calcium and vitamin D. Although it's a childhood favorite, chocolate milk often contains added sugar, which can contribute to tooth decay.
Instead of taking milk from the cafeteria, you can pack your child a healthier beverage, like water with fresh fruit slices added in. If they prefer a school lunch, limit their sugar intake during other meals to combat the effects of regularly drinking chocolate milk.
Canned Fruit
The word "fruit" in a product's name doesn't mean it is healthy, including canned peaches, oranges, and other fruits. Many contain natural sugars, which can cling to the teeth. They also tend to be acidic, so they can erode the enamel.
Although they are a quick snack, fruit cups containing preservatives and added sugar aren't good for their smile. It's better to choose those packaged with water or natural juices. When possible, toss a banana or apple in your child's lunch box to encourage fresh fruit over those in a can.
Bread
Sandwiches are found in many lunch boxes and on school trays every day. Whether they are peanut butter and jelly or a traditional ham and cheese sandwich, bread contains starches, which also contribute to cavities. It clings to the teeth, which can slowly weaken the enamel. As an alternative, many children enjoy wraps using a tortilla or lettuce instead of regular bread.
Make sure your child has what they need to succeed as they head back to school. Don't forget to schedule their semi-annual appointment before starting the new school year.
About Dr. Frank Marchese
Dr. Marchese earned his dental degree from the University of Illinois College of Dentistry. He regularly attends conferences, meetings, and seminars for advanced dental training in many specialties. He has the qualifications you can trust for comprehensive dental care. If it's time for your child's next cleaning and checkup, contact our office today.
Comments Off

on Do School Lunches Cause Cavities?
No Comments
No comments yet.
RSS feed for comments on this post.
Sorry, the comment form is closed at this time.